With a wide range of features and benefits, Redwood Options is a broker that is worth a look
Redwood Options has been in operation since 2013.  The site has undergone quite a few changes over the years, but the reviews have stayed solid over all that time.  Let's take a look at what they have to offer as of 2017.
Company Information
Redwood Options is owned and operated by a company called Azurepearl Capital, located in St. Lucia.  Redwood Options is not regulated, but they do not accept traders from the USA owing to regulations by the CFTC.  Still, their doors are open to traders from elsewhere around the world.
What Makes Trading at Redwood Options Different
I'll be honest here.  In many respects, Redwood Options really is "just another SpotOption" broker.  I would say what makes them stand out is partly their strong reputation, and partly the fact that they haven't left a whole lot of gaps in their services and features.  In other words, they have done about the same thing as a lot of their competitors, but they have done it better.
Assets Available
Following is a list of all the stocks, currencies, commodities and indices available to trade on Redwood Options.  As you will see, this is a massive selection.  There are also pairs.  Scroll past these to read the rest of the review.
Stocks: 3M, ADIDAS, AIG, ALCOA, ALIBABA, ALLIANZ SE, AMAZON,  ANZ BANK, APPLE, ASX, ATHENS, AXIS BANK, BAIDU, BANCO SANTANDER, BANK OF AMERICA, BARCLAYS, BASF AG, BAYER AG, BHP-AU, BLACKBERRY, BMW, BOEING, BOVESPA-F, BP, BRITISH AMERICAN TELECOM, CATERPILLAR, CHEUNG KONG, CITIGROUP, COCA COLA, COMMONWEALTH BANK, DAIMLER AG, DEUTSCHE BANK, DEUTSCHE TELEKOM, DISNEY, E.ON SE, EBAY, EXXON MOBIL, F5 NETWORKS, FACEBOOK, FAZ-SHORT BANKS, FREEPORT McMORAN, GAZPROM, GENERAL ELECTRIC, GENERAL MOTORS, GOLDMAN SACHS, GOOGLE, GROUPON, H & M, HSBC HOLDINGS, HSBC-HK, HUTCHISON, IBM, ING GROUP, INTEL, JAKARTA SE, JOHNSON & JOHNSON, JP MORGAN CHASE, KING DIGITAL (Candy Crush), KOSPI, LAS VEGAS SANDS, LINKEDIN, LLOYDS BANK, LUKOIL RS, MASTERCARD, MAZDA MOTOR, McDONALD'S, METRO AG, MICRON, MICROSOFT, NETFLIX, NIKE, PETROBRAS, PFIZER, PING AN INSURANCE, PROCTER & GAMBLE,RIO TINTO, RIO-AU, ROSNEFT, RTS FUTURE, RUSSELL 2000, S.BANK INDIA, SALESFORCE.COM, SANDISK, SAP, SAUDI REFINERIES, SBERBANK, SEARS HOLDINGS, SIEMENS AG, SINA, SONY, STARBUCKS, SUMITOMO MITSUI, TATA MOTORS, TATA STEEL, TEL AVIV 25, TELEFONICA,TENCENT HOLDINGS, TESCO, TESLA MOTORS, TEVA.TA, TOPIX 100,TOSHIBA CORP, TOYOTA (US), TWITTER, UNICREDIT, VODAFONE, VOLKSWAGEN, VOLVO, WAL-MART, WEIBO, WESTPAC, WYNN RESORTS, YAHOO, YANDEX N.V.
Currencies: AUD/CAD, AUD/CHF, AUD/JPY, AUD/NZD, AUD/USD, CAD/CHF, CAD/JPY, CHF/JPY, EUR/AUD, EUR/CAD, EUR/CHF, EUR/GBP, EUR/JPY, EUR/NZD, EUR/RUB, EUR/USD, GBP/CAD, GBP/CHF, GBP/JPY, GBP/USD, NZD/JPY, NZD/USD, USD/CAD, USD/CHF, NZD/USD, USD/CAD, USD/CHF, USD/JPY, USD/MXN,USD/RUB,USD/TRY,USD/ZAR.
Commodities: COFFEE, COPPER, CORN, GOLD, OIL, PLATINUM, SILVER, UGAR NO. 11, WHEAT
Indices: ASX FUTURE, BOMBAY SE, CSI 300, DAX, DAX FUTURE, DOLLAR INDEX F., DOW, DUBAI, EURO STOXX 50 ,EURO STOXX 50 F, TSE 100, FTSE FUTURE, FTSE MIB FUTURE, GERMANY 10YR BOND, HANG SENG, HANG SENG F. HSI, IBEX,IBEX FUTURE, KUWAIT, MICEX, NASDAQ, NASDAQ FUTURE, NGAS FUTURE, NIFTY FUTURE, NIKKEI FUTURE, NIKKEI 225, S&P 500, S&P FUTURE, SHANGHAI COMPOSITE, SMI FUTURE, SSE180, TADAWUL, TNA-LONG X3, TSX 60, TZA-SHORT X3 CTG, U.S 10 YEAR NOTE, U.S 30 YEAR NOTE.
Does Redwood Options Offer Bonuses?
Yes.  You can view information on the match bonuses available in the section below on trading accounts.  You have the option to choose between match bonus money and trading insurance.  This is cool, as most binary brokers only offer match bonuses.
Redwood Options Trading Accounts
Here are the trading accounts you can choose from on Redwood Options:
Beginner: Deposit $200-$5,000, no bonus ($200 is the minimum deposit).
Semi Educational: Deposit $5,000-$25,000, receive a 50% match bonus or 25% trading insurance.
Full Educational: Deposit $25,000-$50,000, receive a 75% match bonus or 50% trading insurance.
Semi Advanced: Deposit $50,000-$100,000, receive a 100% match bonus or 75% trading insurance.
Full Advanced: Deposit $100,000+, receive a 100% match bonus or 100% trading insurance.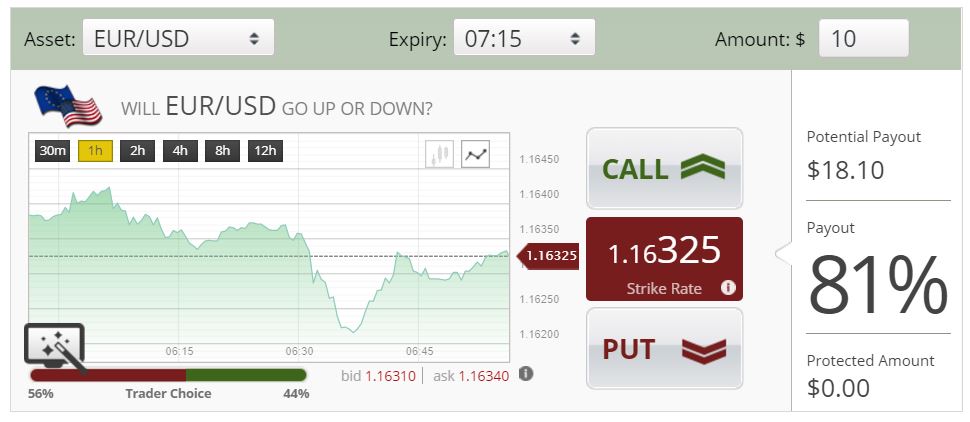 The benefits you get depend on the account level you choose.  At the Beginner level, you receive an eBook and access to educational videos and starter webinars.  An account manager is available to assist you for a month, and the site sends you weekly market reviews.
At each level, you receive successively more time with the account manager.  Every tier above Beginner includes daily market reviews as well as strategy seminars and academy sessions.  At the higher tiers, you get VIP webinars, an interest-earning account, and extra payouts (up to 5%) on your winning trades.  You also get access to more and more academy sessions.
"It is hard to go wrong with benefits and features like these.  A lot of sites don't offer nearly this much, no matter how large your account happens to be."
Mobile Trading on Redwood Options
As of the time of this review, the site only says "coming soon" for mobile apps.  I did some checking around however, and the Android app already exists and is available to download from Google Play.  There is still no iOS app.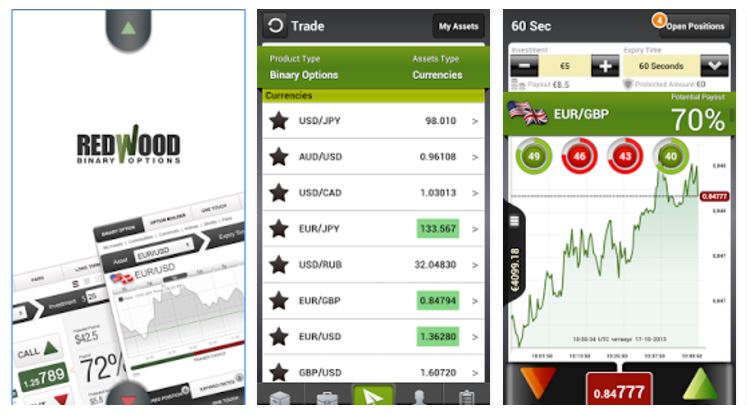 Redwood Options Deposits and Withdrawals
As already stated, the minimum deposit amount on Redwood Options is $200 or the equivalent.  You may deposit in USD, GBP, EUR, CAD, AUD, or JPY.  The deposit methods which you can use include credit or debit card, wire transfer or CashU.
When you withdraw, you need to pull at least $100 out of your account.  The limit goes up to $2,000 per week.  While the withdrawal thresholds are annoying, they are also standard for the binary options industry.  In the terms and conditions, the company states that "RWO charges no withdrawal fees for credit cards."  There is a $30 fee for each wire transfer withdrawal, but the first one is free each month.
No fees for credit card withdrawals is awesome, since this allows you to maximize your profitability and enjoy flexibility when it comes to accessing your own money.  A lot of other binary sites make it hard to get at what is rightfully yours.
Redwood Options Trading Platform
Redwood Options uses SpotOption as a trading platform, a white-label interface which is commonly re-branded by various brokers for use on their websites.  So if you have traded on other binary options sites, you may get déjà vu while looking at it.
"SpotOption was designed with ease-of-use in mind and is perfect for beginners.  Across the top, you will see all the trade types available: High/Low, Pairs, Long Term, Sixty Seconds, One Touch, Ladder and FX/CFD. "
This is a great selection.  Below, you can select the asset you want to trade, enter in the expiry, amount, and direction, and place your order.
The minimum trade amount is $10 for most trade types.  The maximum is $5,000.  Considering that the minimum on many competing sites is $25, this $10 minimum is more accessible for traders who are getting started with the minimal bankroll.
Customer Support on Redwood Options
Customer service on Redwood Options is provided through several channels.  You can fill out a web form, you can email, or you can use live chat.  The most recent time I tried to contact the company on the live chat line, it malfunctioned.  I think this must be a temporary setback though, because it has worked fine for me in the past.
What were my past dealings with the team like?  In my experience, the line is answered pretty quickly.  Agents do try to help, but they do not seem like the most knowledgeable support staff out there, and they have given me hard-sells.  Of course, this was a while back, so things may be better now.
Trading Features and Resources on Redwood Options
Use the "Follow" feature to see what other traders are doing.  In fact, you can even select a specific user, a period of time, an investment amount, and a maximum limit.  The platform will then place the trades automatically on your behalf for hands-off investing.
There is a 0-10% out of money refund if your trade expires at a loss.
Early close allows you to sell an option early in order to conserve your money when the market appears to be turning against your position.
I have found no blatant references on the site to a demo account, but customer service has told me in the past that it may be possible to open one by speaking with an account manager.  I have seen this confirmed by other traders and reviewers as well.
Verdict
There is nothing overly "unique" about Redwood Options which makes it all that distinctive from competing SpotOption brokers, but I stand by my assessment that more quality care has been put into every aspect of the site.  This makes it one of the better choices for trading binary options online right now.
Pros:
There are numerous financial instruments to trade.
Many types of trades are available.
You can choose the type of bonus you prefer.
Many educational materials and trading tools are provided.
There are no fees for credit card withdrawals.
The minimum and maximum investment sizes are flexible.
There is a low minimum deposit of just $200.
Cons:
Customer service is sometimes pushy, though still helpful.
Even though Redwood Options looks to be a good broker, there is nothing particularly innovative here.
Redwood Options is not regulated.
FAQ
Is Redwood Options a scam?
Since this is a very well-established broker with a stellar reputation, no, there is no reason to believe that it is a scam.  Redwood Options has no credit card withdrawal fees and does not force you to accept a match bonus, which prevents your money from getting tied up.
How do I open an account on Redwood Options?
Easy.  Just navigate to the registration page and fill in your basic details.  Accept the terms, enter the captcha, and hit "Submit."  Once your account is open, you may make your deposit.  Once your money is in your account, you can begin trading.