Binary Options Mobile Platforms Introduction
In a day and age where investing in the traditional markets becomes riskier by the day, binary options trading is proving to be an incredible investment opportunity for investors who can take advantage of fluctuating market prices without actually holding any financial assets. Binary options trading involves the concept of betting on the financial markets for a short period of time and is guaranteed to generate a massive payout for a profitable trade. The lower time frame, excitement of trading, higher potential for profits, and comparatively lower capital outflow have all contributed to the rise in fame of binary options trading among modern retail traders.
"Technology plays a significant role in the global financial markets, with the traditional stock markets seeing different forms of technologies being used since the 1970s. However, the turn of the century saw internet and desktop computers revolutionise the way by which traders could access the markets, and is perceived as one of the primary reasons behind the surge in popularity of the different financial markets among the global audience."
Technological innovations have a continued upward trajectory, resulting in several life-changing inventions that aim to improve the overall quality of living of humankind. Mobile devices are considered to be at the forefront of trading technologies, as a vast majority of investors now keep track of their investments and the markets through a hand-held device. Gone were the days when one had to invest in a large and expensive trading systems to access the markets, as modern-day binary options trading companies have now made it easy for traders to access their markets from a smartphone or a tablet.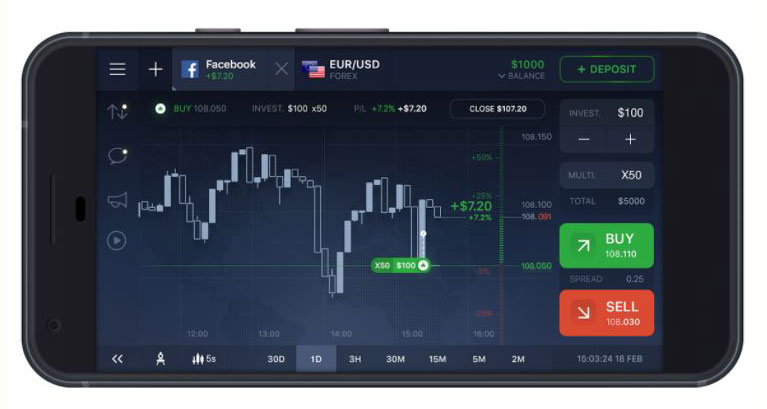 Categories Of Binary Trading Platforms
Binary options trading was introduced in 2008, right around the time when smartphones were starting to generate a massive amount of interest in the consumer market. Platform developers and programmers rushed towards the new and lucrative opportunity by designing several innovative platforms for investing in the financial markets, thereby resulting in the development of different binary options trading interfaces according to traders' requirements. Broadly, binary options platforms can be categorised into three distinct categories, according to their primary user platform.
Desktop – Desktop trading platforms are designed and developed according to a prescribed set of conditions that are reserved for conventional trading interfaces, which are created as installable software for desktop and laptop computers. Desktop trading interfaces are still considered to be the most preferred platforms for established and professional traders, mainly due to the extent of trading features available to traders. Desktop platforms are indeed the most powerful trading interfaces for binary options trading, as they offer the convenience of using different charting options, indulging in elaborate technical/fundamental analysis, and taking advantage of the performance of a desktop or a laptop PC. For serious traders, nothing can ever replace the desktop trading interface.
Mobile – Mobile trading platforms are interfaces that allow traders to access their binary options trading accounts on a mobile device, such as smartphones and tablets. Unlike other forms of financial markets, binary options trading is a relatively new investment product and was able to take advantage of feature-rich mobile devices that were beginning to saturate the consumer industry. Mobile app developers were also able to take advantage of the lower number of mobile operating systems that were popular among mobile users and started designing dedicated mobile trading platforms for some of the top mobile operating systems in the industry. Today, mobile operating systems have one of the highest concentration of traders, particularly in the binary options market, and continues to gain popularity among both new and existing investors.
Web – Some traders may wish to enjoy all the features of desktop trading on the move, which is why a majority of binary options brokers and developers usually resort to offering a web trading interface as the standard binary options trading platform. Web trading interfaces are independent platforms that are accessible through a web browser and are usually compatible with most desktop and mobile web browsers. Since web platforms don't require any specific installations, traders can access their accounts from any device through a supported web browser. Web trading interfaces are sometimes more preferred than a dedicated desktop or mobile trading platform, which can also be accessed on any third-party systems without requiring any major browser add-ons.
Trading Binary Options On Smartphones & Tablets
Smartphones and tablets are a common sight today, with most traders having access to the latest iterations that promises to provide the fastest processing power and incredible performance. It is true that modern day smartphones and tablets pack a more potent punch than dedicated desktop computers that were created less than a decade ago. In fact, most high-end smartphones and premium tablets are capable of replacing the traditional desktop and laptop, albeit at the expense of screen size.
However, modern tablets do come with a larger screen size, thereby eradicating the need for a dedicated desktop device. Traders may also find some modern tablets to be far more powerful and user-friendly than the heavier and cumbersome laptop alternatives.
"Therefore, binary options traders now have the option to trade on the go with a powerful device that will not only ensure better flexibility in trading but also allow traders to enjoy a full-featured trading environment."
One of the primary concerns among mobile traders is the safety and security of trading through smartphones and tablets. Desktop users may argue that laptops and PCs may offer better protection against phishing and virus attacks, but there are dedicated anti-virus and anti-malware programs for mobile devices, which can prevent any cases or mobile security issues. Most binary options companies also employ state-of-the-art encryption technologies to ensure that they provide a secure trading environment to its users, which is free from prying eyes. Therefore, mobile trading can be as safe as trading on a desktop platform.
The Different Versions Of Mobile Binary Trading Platforms
Binary options brokers have to concentrate more on catering to different mobile users, as there are many options for mobile users when compared to desktop platforms. Usually, programmers can develop a dedicated desktop trading platform for either the Windows or Mac operating systems, with only a small number of users opting for a trading platform on Linux or other operating systems. In the case of mobile binary options trading, there are far more options, even though there are a couple of operating systems that stand out from the rest.
Android – According to recent estimates, Android holds a stupendous lead in the number of mobile users, which points to at least 64% penetration in the mobile users market. Android is also an OS of choice for smartphone and tablet manufacturers that have led to the rise in popularity of Android among global users. Therefore, Android is quite simply the most preferred mobile operating system for binary options trader, which in turn provides a good amount of motivation for companies to develop dedicated binary mobile apps for the Android operating system. There may be cases where binary options brokers may purposefully refrain from providing a dedicated Android binary options mobile app, in which case, traders are provided access to web trading platforms for binary trading through a web browser.
iOS – iOS is the clear runner-up to Android, with close to 33% market share in the mobile users market. Of course, the popularity of iPhones and iPads are indeed a valid reason why iOS retains its second spot, together with the security and flexibility offered by the iOS to mobile traders. A majority of binary options brokers generally make it their priority to offer a dedicated iOS binary trading app, but there are also cases where users will have to use their device's web browser to access their accounts through a web trading interface.
Windows – Contrary to the popularity of the Windows desktop operating systems, the mobile Windows OS is nowhere near the iOS or Android in terms of market share. With less than 1% of the global users having a Windows enabled smartphone or tablet, binary options companies or developers have virtually no incentive to spend a considerable amount of money on developing or maintaining a dedicated Windows binary options app. While traders may be able to find a Windows-supported binary options broker from a handful of companies in the market, it is usually advisable for traders to access their accounts through a web trader.
Other Mobile Operating Systems – There are other lesser-known mobile operating systems such as Blackberry, Symbian, and Java, where users have no dedicated mobile trading platforms for accessing their binary options accounts. In such cases, most brokers usually recommend trading via the web trading interface, which requires a compatible browser and minimum device specifications. For the best trading experience, traders are recommended to opt for either Android or iOS enabled devices for binary options a trading.
Pros & Cons Of Mobile Binary Options Apps
We take a close look at all the benefits and drawbacks of mobile operating systems, and how they compare to the traditional desktop platforms.
Pros
Ability to trade on the go.
Keep track of open positions & manage trades.
Modern mobile trading platforms are secure.
Eliminates the need for using cumbersome laptops on the move.
The flexibility of trading without sticking to a schedule.
Instant access to trading materials and resources.
Fast-paced and exciting.
  Cons
Mobile platforms may suffer from connectivity issues due to network problems.
A lack of a fixed trading schedule can lead to over trading.
It is difficult to understand the risks and rewards, as trading can become addictive.
Unlike large screens available with desktop trading platforms, traders will have to make a few adjustments and some compromises with the reduced screen real estate of mobile platforms.
Trading Resources & Features With Binary Options Mobile Platforms
Mobile binary trading apps have limited access to trading resources, due to the obvious drawbacks of smaller devices. Traders who are fairly comfortable with a desktop trading platform will find it difficult to transition to a mobile trading platform. Although most modern binary options apps allow traders to perform an in-depth analysis of the markets, it is usually less flexible than a dedicated desktop trading platform. Traders will have to switch between multiple tabs to access news, signals, training and other information.
"Regardless of the slightly lower flexibility, mobile apps do have the best performance regarding the trading functionalities. If you are a fan of a clean and seamless interface, you are bound to be impressed by the simplicity and the uncluttered layout of a mobile trading platform. Mobile interfaces provide easy access to information such as binary assets, payouts, and trading activity, thereby providing all the vital information of trading at a single glance."
Some mobile apps offer training materials such as education, signals, and market analysis, all of which are accessible through individual sections. The availability of training materials may vary from broker to broker and are also dependent on the category of account chosen by the trader. It is also normal for brokers to reserve their training materials strictly through their online interface; hence, traders should get in touch with the broker to learn about the exact features that are available on their trading platforms.
Binary Mobile Demo Trading
The best feature of trading binary options on mobile devices is the ability to test out the performance and reliability of interfaces through a binary options demo account. Of course, not all brokers offer the convenience of a demo account, but if traders are careful about their choice of a broker, they can receive an unlimited demo account free of cost. We have reviewed some of the top binary options brokers in the market that offers a free demo account at the outset, or provide a demo account as an option for real, verified account holders.
Demo account is not only suitable for evaluating the performance of a platform, but it also presents an opportunity for traders to compare different mobile trading interfaces and choose a platform that best suits their requirements. Demo trading enables traders to learn the platform functionalities without risking real money on the line, and can also be of great assistance for amateur traders who are just starting out in binary options trading. Beginner traders can use demo trading platforms for getting a real-hand experience of the markets, and take advantage of virtual trading accounts to minimise their risks in the market.
Binary Options WebTraders As Viable Alternatives To Mobile Trading Platforms
Not all binary options brokers offer a dedicated mobile trading platform. In fact, some of the mainstream companies limit market access by providing just the web trading interface for binary options trading. Of course, web traders are usually compatible with both desktop and mobile devices, but the lack of a dedicated app may not be acceptable for certain traders. If you find a broker that offers an excellent binary options product but does not provide a mobile app, you should try to analyse the performance of their dedicated web trading interface to find out whether the platform suits your trading requirements. In most cases, a web trader offers the same performance and flexibility as a mobile app. Of course, if you are still not satisfied, you may consider moving to another broker that offers the same services, albeit with the option of a mobile trading interface.
Auto & Social Trading On Binary Mobile Apps
Automated trading and social trading are concepts that see traders depending on external sources to improve their trading performance. Although automated trading and social trading are based on trading tools reserved for desktop trading platforms, there are a few brokers that also provide such services to mobile users. Automated trading is the process of employing robots or automated trading systems to trade on behalf of a trader, while social trading is the process of using the assistance of other traders in the market, either by copying trades or through trading signals. Often times, brokers may also allow traders to use a hybrid of these technologies to enable traders to have better control over their automated trading strategies.
Binary options trading is a financial product where traders have the freedom to use all the tools available in the market to gain an edge in performance. Of course, automated and social trading tools are not provided by all brokers, but some brokers offer such an option for both desktop and mobile users. If you are considering the option of using any such tools as a part of your trading strategies, your broker should be able to provide better insights into your options and whether they would indeed support such a modern and unique concept.
Should You Use Binary Options Mobile Applications?
The use of mobile binary options apps depends on individual trader preferences. Of course, some traders may prefer trading binary options on mobile apps, but a majority of traders may not be comfortable with the reduced functionality of mobile apps. As a trader, your job is to find out which platform works better for your trading needs, and which platform is more suited according to your market analysis requirements. Our expert broker reviews offer in-depth information about the mobile platforms that are provided by a broker, and a real-world comparison between the performance aspects of the different binary options mobile trading platform options available in the market.
Discover the Best Binary Brokers for 2021

Below, you can register with our best brokers for binary options. Each broker on this list offers great features, including rewarding bonuses, intuitive trading platforms, accessible account types, and more. Select one now to trade binary options with confidence.   

Most visited Forex reviews in 2021