Binary Options Trading Through iOS Apps – An Overview
Mobile trading platforms have captured the imagination of traders, ever since manufacturers have started launching different types of smartphones and tablets in the market. Traditionally, traders could only access the financial markets through dedicated computing systems, which slowly transitioned into laptops and mobile PCs to facilitate trading on the go. Regardless, traders still lacked an ability to trade on the move without facing the inconvenience of carrying heavy computing devices such as laptops.
However, the invention of smartphones simply changed the face of mobile trading and has given a new meaning to the whole concept of investing in the markets through a standalone mobile platform. Apple is indeed the pioneer of the modern smartphone, by bringing touch control devices to the markets and making them popular within a short span of time.
"Touch-enabled devices have indeed been around for a few decades, but the mainstream commercialisation of the technology was brought about by the release of the first iPhone. Gradually, Apple started developing unique products such as iPads and iPods, which paved the way for the market to capitalise on the smartphone and tablet industry."
All other devices are now built on different iterations and consumer demands that resulted from the instant popularity of the iPhone. Even though Apple only made use of existing technologies to create its first flagship, several new devices in the market strive to compete with the high-end Apple devices. Of course, there are numerous competitors in the form of Android and Windows smartphones and tablets that far exceed the performance benchmark set by Apple, but Apple continues to be a favourite among consumers, for both personal and professional use.

Rise In Popularity Of iOS in Binary Options Mobile Trading
Apple is a pioneer in the field of mobile operating systems and has developed one of the most sophisticated and user-friendly mobile OS in the market. The iOS, as it is popularly known, is employed in almost all the different devices manufactured by Apple for the mobile consumer market. iOS is indeed the standard OS for iPhone, iPad, and iPod Touch, with a few subtle variations for each device. The iOS is developed entirely in-house and receives continuous upgrades in tune with the company's device launches and keynote events.
Binary trading is a new financial product, and the timing of the product's launch was synonymous with the first iteration of the iOS. Ever since OS manufacturers started granting freedom to developers to create standalone apps for the iOS and Android platforms, several new companies and independent providers have come to the fore to design intriguing apps and make them available through the dedicated App stores.
"Binary options brokers also took the opportunity to develop independent binary options mobile apps for these devices, and have been successful in generating an immense amount of interest in the global retail trading market."
The popularity of iPhone and iPad as the primary choice of tablets and smartphones among premium customers is also one of the reasons why iOS was chosen as the most preferred platform by app developers. Binary options brokers were quick to realise the investment potential of these premium customers, and have dedicated a vast amount of resources to develop some of the best iOS apps for binary options trading. The ever-increasing popularity of smartphones and tablets in the market is surely an indicator of potential for better growth in the number of traders choosing binary options as their preferred investment platform.
Binary Options iOS Trading Platforms – Devices
One of the major criticisms of the iOS binary options trading platform is that traders feel that they are limited to just the iPhone and the iPad for binary options trading. In fact, Apple has numerous devices in their product portfolio that runs on the iOS, which allows traders to download and install binary options apps on all supported devices. We take a closer look at trading binary options with some of the more popular Apple devices:
iPhone Binary Options Trading – Binary options trading on iPhone is the most popular form of investing in the binary options market. For simplicity purposes, brokers are known to develop exclusive mobile apps that are optimised for different versions of the iPhones, and most of them are highly compatible with the base iPhone SE and the flagship iPhone iterations.
iPad Binary Options Trading – iPad is another popular binary options mobile trading device that offers a larger screen, more processing power, and added storage options. iPad is a serious alternative to desktop or laptops, especially the larger screen versions, and can provide a host of trading functionalities, including advanced charts, custom indicators, and automated trading.
iPod Touch Binary Options Trading – iPod Touch is an unconventional device for binary options trading, but since iPods run on iOS, traders do have the ability to install binary options apps on an iPod Touch. The trading configuration may not be as advanced as the iPhone or the iPad, but iPod users do enjoy the convenience of installing and using binary options apps according to their preferences.
Apple TV – Although the Apple TV runs on a modified version of the iOS and has access to all the apps available on the iTunes store, it may not be as convenient as trading on the mobile devices. Despite being a smart TV, Apple TV does not possess the processing power or other features that are required to run binary options apps. Therefore, iOS binary options trading is only available for Apple's mobile devices such as iPhone, iPad, and iPod.
iOS is a secure operating system that leaves no room for error when it comes to safeguarding users' information. Unlike its immediate competitor, the Android OS, iOS is based on a closed operating system that cannot be tampered by any external parties. Therefore, iOS binary options trading is considered to be a far safer option for mobile users.
Binary Options iOS Apps In Recent News
As of June 2017, Apple has publicly denounced binary options apps that are made available through its iTunes store. Apple has cited numerous reasons for its official stand against binary options platforms, but the main reason was attributed to several complaints put forward by existing iOS users. There have been numerous instances of broker frauds and financial malpractices happening in the binary options market, and regulatory organisations have been largely unsuccessful in curbing these illegal financial activities. As a result, Apple has chosen to ban binary options apps altogether from its App Store and has instructed developers to find alternative options for catering to iOS users.
Apple has only put an end to new binary options apps being listed on its iTunes store, as existing binary options apps will continue to be available for traders until further notice. Although the company has not made any decision on the existing apps, Apple has been explicitly clear that applications  "that facilitate binary options trading are not permitted on the App Store".
[blockquote]Therefore, binary options traders can still download and use verified binary options apps on their Apple devices, but such apps are not eligible for any future updates.[/blockquote]
Therefore, brokers may be unable to improve their existing apps or troubleshoot problems, which may lead to the complete removal of the app from the iTunes Store. Each new version of the iOS also requires changes to be made to the relevant app, but a freeze on updates for binary apps will make these mobile apps irrelevant for future iOS users.
Regulations Governing Mobile Binary Options Trading
Binary options trading had a shaky start in the financial markets, as there were criticisms and negative feedback from all quarters of the industry. Both institutional investors and retail traders were against the idea of gambling on the markets, which was reinforced by the considerable number of scams that quickly took advantage of unsuspecting investors. Therefore, some of the leading financial regulators such as the CFTC, the NFA, and the ASIC quickly incorporated rules that prevented any broker from offering any financial services that had a direct conflict of interest between a trader and the broker.
Regardless of the negative criticisms, retail traders were mightily impressed by the exciting and high-risk binary options market, which provided high returns for a very small capital input. Therefore, several EU regulators such as the CySEC moved to regulate binary options trading activities and started issuing licenses to firms operating in the region.
"The market also witnessed an increase in binary options broker registrations in tax havens such as Belize, St. Vincent & the Grenadines, Vanuatu, and other countries, where the relaxed regulatory guidelines and low cost of operations help companies to increase their bottom line."
Almost all reputable regulators from the Americas, the European continent, Africa, and the Asia-Pacific follow a particular set of guidelines for regulating binary options companies. Although the exact policies may vary, these regulators often require binary options brokers to hold traders' money in a segregated account, provide protection against broker insolvency, and reduce conflict of interest. Regardless, the failure of these regulators to control binary options scams have resulted in Apple taking the ultimate step and banning such broker apps from their official app store.
iOS Binary Options Apps Updates & Alternatives
Since Apple's decision to eliminate binary options apps from its iTunes stores, brokers have been experimenting with new platforms to cater to iOS users. With a ban on updates or making any iOS binary app improvements, binary options brokers have resorted to online trading platforms that offer market access through standalone Web Traders. Web Trading platforms are browser-based interfaces that enable a trader to trade the markets through any device, and all they require is a compatible web browser. Most modern web trading interfaces are developed as a responsive platform, which enables flexibility of use between multiple devices.
Binary options brokers are still able to promote its services through the existing iOS apps, until the time Apple decides to ban all binary options apps unceremoniously. Therefore, iPhone and iPad users can still download their favourite binary options app, and trade the markets without any restrictions. Ultimately, in the event that Apple chooses to get rid of all apps on its play store that facilitates binary trading, traders will have to switch to alternative platforms such as web traders.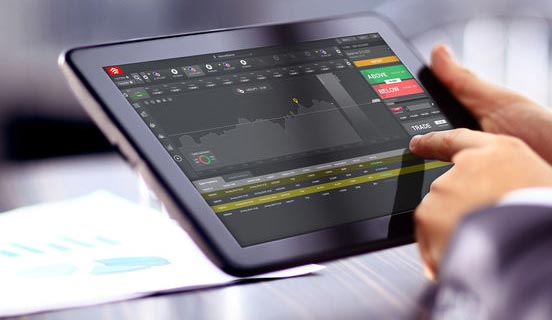 Advantages Of Binary Options Trading On Apple Devices
iOS binary trading apps have several advantages over its rivals, and we endeavour to give you some of the top reasons why you should trade binary options through an iOS platform:
Security – iOS is the most secure operating system in the mobile market, and Apple continues to incorporate new and advanced security protocols to prevent iOS users from any external threats. Trading on iOS apps ensures that your personal identity and financial information is kept safe from prying eyes.
Availability of Apps From Brokers – Up until the recent ban on binary options apps on the Apple App Store, binary options brokers always gave priority to offering a dedicated trading platform for iOS users, even if it meant an exclusion of Android or other mobile users. Even to this day, the iTunes store contains a wide assortment of binary trading apps, which can provide you with the best choice of trading platforms according to your trading preferences.
Complete Mobile Access – These days, mobile trading platforms are able to offer an excellent trading environment, without the need for any dedicated trading terminal. iPhones and iPads are extremely useful mobile devices that provide an incredible opportunity to trade on the move, albeit with a few compromises on the available screen space.
High-Performance Guaranteed – Apple products are packed with high-performance components, including latest processors, high storage, and the best screens on the market. Therefore, binary options traders can be guaranteed of high performance every time, which only keeps getting better with new versions of iPhones and iPads.
Ability To Trade From Multiple Devices – Apple gives the opportunity for traders to use iOS apps on iPhones, iPads, and iPods. Hence, the compatibility of iOS with different devices does ensure that traders can choose their preferred trading platform without making any compromises.
Drawbacks Of Binary Options Mobile Apps For iOS
As with all aspects of consumer products and binary options trading, iOS apps also have a few negative aspects. Here are some of the biggest problems of trading binary options with iOS.
Devices Are Expensive – Apple devices are known to be expensive, and have a huge premium over other smartphones or tablets. Consumers are able to buy high-end devices from other manufacturers, which offer the same performance as iOS enabled devices at a fraction of the cost. Therefore, if you are contemplating a switch to Apple for its trading prowess, you may be better off with an Android enabled device, which can not only provide better value for money, but you can also use the remaining money to invest in your trading account.
Third-Party Platforms May Not Be Reliable – Reliability of apps are dependent on the credibility of the developer or broker that has published the app. Therefore, if you end up choosing an unregulated broker or a fraudulent trading app, there is a serious risk to the safety of your personal information. It is vital to ensure the authenticity of the publisher before downloading or installing any apps.
Resource Intensive – Binary options mobile apps would realistically use up a fair share of your device's resources. Hence, it may result in lower battery life and a reduced performance if you are keen on multitasking with your device. If you are not trading binary options, make sure to exit the app and avoid running it in the background, unless you absolutely need to.
Recent Ban On iOS Apps – The recent ban on iOS binary trading apps have forced brokers and traders to seek new solutions for trading. The long-term instability of binary options apps is a reason for worry for both app developers, as well as binary options investors.
Opening An iOS Binary Trading Account
Binary options brokers will have all the essential information about their trading platforms and mobile trading access on their website, which can help you to choose a broker that provides a dedicated iOS mobile trading app. We have also compiled a list of all verified binary options companies, who provide excellent mobile trading platforms, especially for iPhone and iPad users. We only recommend investing in a regulated and verified broker, as it will ensure that your trading capital is protected from any broker malpractices.
You can also open an account directly from the iOS app. Traders will be required to submit their personal information, a valid email address, and other identifying documents to help the broker verify your identity. Once you have set up a verified binary options account, you can then proceed to make your initial investment, which can either be through your mobile device or on a desktop platform. Mobile apps do allow traders to enjoy secure financial transactions, but if you are worried about the security aspect of your financial accounts, you can also install anti-virus and anti-malware products on your smartphone or tablet. iOS is inherently more secure than any of the other mobile operating systems in the market, and it allows you to make secure payments without any limitations.
Is It Safe To Trade With Binary Options Trading iOS Apps?
It is extremely safe to trade binary options with an iOS app, but the future of such apps look bleak. With strong intervention from Apple, binary options brokers are scattering to different platforms to ensure continuity of services to existing iOS users. As of now, Apple hasn't removed all the verified binary options apps of regulated companies from its iTunes store, but there are reports of Apple taking steps to ban any app that promotes binary options trading completely. Such a ban also includes apps that use supporting services such as market analysis software and binary options signals. Therefore, it is imperative to consider your options before trading binary options with iOS apps.