Why A Forex Demo Account Is Important For Developing A Profitable Trading Strategy
Success in Forex trading is a direct result of acquiring the proper knowledge, learning new analytic skills, reading the underlying trend of the markets, and applying all the information into a well thought out trading strategy through consistent practice. Trial & error is a big part of FX trading, regardless of what the numerous so-called FX millionaires in the industry would have you believe. There are no secret ingredients to winning, and unlike gambling or other exotic money making opportunities, Forex trading and investing in the financial markets is all about controlling your losses while extending your gains. Once you start investing in the Forex markets, you will realize that there is no Holy Grail, as profits depend entirely on the emotional strength of a trader and their ability to put their strategy to work for them.
Due to the extent of resources available online and owing to the numerous educational books written on FX trading and financial markets, it is easy for a beginner trader to find all the knowledge they need to enter the markets. In fact, there is a vast amount of trading information available online that can easily confuse a beginner. However, how does one apply this knowledge to their trading without risking their trading capital?
Learning to trade with real money is perilous, especially when there is a significant danger of losing all of the money in a single trade or a through string of consecutive losses. Trading with real money involves emotions and real market scenarios, which can negatively affect the mindset of trading. Then there is also the risk of compounding losses and seeing our actual money trading capital being eroded trade after trade. Losing real money can have serious consequences, especially when the trader is not prepared to realize that losing is a part of FX trading.
The greatest risk of FX trading applies to traders that start off on a winning streak, which builds up an incredible amount of false confidence. When traders start witnessing a streak of profitable trades, either by implementing the best trading calls that are supported by the underlying trend of the market or through luck alone, amateurs quickly become detached from the reality of the markets. It is inevitable for a trader to face a loss in the FX market, which can eradicate the entire profits and a huge chunk of the trading capital.

Recommended Forex Brokers

It is essential for you to practice your trading skills through an FX demo account, so as to avoid the risks of the markets due to a lack of prior knowledge about how the market will react to your trading strategies. A Forex practice account allows you to learn the rules of trading without investing real money. A demo trading account is considered to be the ultimate tool for traders, which not only allows beginners to get first-hand knowledge of trading but also provides a risk-free environment to hone their trading skills.
How To Get Familiar With FX Trading Using A Forex Practice Account
There are different options and varieties of Forex demo accounts that can be specially customized according to individual trader requirements. A demo account for Forex trading is designed to offer an opportunity for traders to test out the different platforms and the different types of account options. These demo trading accounts have almost all of the features and products that are offered on a real account, albeit traders will have to make some compromises and get around a few minor reservations. Nevertheless, an FX trading demo can impart an enormous amount of information that can help prepare a trader to tackle the Forex markets in an informed manner.
Opening An Account & Choosing The Starting Capital
Almost all Forex brokers offer a free demo trading account that can be customized according to individual specifications. You can choose the type of account, the initial deposit amount, the number of financial assets, and change an array of options to suit his or her trading style. However, be aware that there are brokers that offer a demo account with fixed trading conditions that cannot be changed according to individual preferences. These one-size-fits-all demo accounts are usually offered for a limited period, such as 30 days, and are usually an exact replica of the best account offering from the broker. Try to find an FX trading demo that offers an excellent platform to enable you to apply your trading strategies under real market conditions.
Adjusting The Leverage & Lot Preferences
A Forex trading demo account is the perfect opportunity to understand your risk-appetite and experiment around with different leverages and trading lots to find a combination that works perfectly. Unlike a real account, you are not risking your money, which allows you to try out higher leverage options and using the maximum amount of leverage to analyze whether high-risk trading is suitable for your trading strategy. On the other hand, an online trading demo will also help you to understand the full effects of using high leverage, along with helping you to position your order sizes according to your trading capital.
Understanding The Dynamics Of The Market
The FX market moves according to the dynamics of demand and supply. There isn't a single strategy in the world that can correctly analyze the movements in the markets. A fair amount of education and a proper use of an FX practice account can help a trader to understand the basic fundamentals and the underlying market movements. Forex demo accounts are excellent platforms for all types of traders to properly understand the market and make their trade choices according to the existing indicators and the prevailing trends.
Controlling Risks & Increasing Profits
A Forex demo trading account is where a trader learns to control his trading results to minimize the losses and extend the gains. Demo trading offers an unprecedented opportunity to trade with virtual money, which not only preserves your trading funds but also helps you in understanding the difference between winning and losing. Take some time to familiarize yourself with the market by opening trades for the sake of it, without worrying about the consequence. Then compare these results with the actual performance of your trading strategy, which will certainly yield some interesting facts about your trading.
Keeping A Tab On The Emotions
The ultimate goal of using a demo account for Forex trading is to become emotionally detached from the risks of the markets. Psychological factors are the biggest causes for failures in the FX market, which is proven time and again by the 90% of the losing traders that succumb to greed, fear, and emotional instability. Use a Forex trading demo to control your emotions and refrain from over analyzing the markets that might inhibit your ability to read the markets accurately.
The Advantages of A Demo Trading Account
Forex demos are free, which is the biggest advantage of a demo trading account. To open a demo account, all you have to do is sign up using your email, and you get access to your demo account login parameters instantly. Most brokers usually don't require you to submit any additional information such as your identifying documents, contact numbers, or address proof, but it is not uncommon for some brokers to collect this information as part of their Know Your Customer procedure.
Demo FX accounts allow you to preserve your trading capital while you learn all the important aspects of trading. Once you lose a significant amount of money in the markets, it will take a considerable amount of time to recover it, which makes it psychologically challenging to even the best minds. Therefore, another key advantage of a Forex practice account is that you are holding on to your money for a longer period, which is what you need to do to achieve long-term profitability.
Forex demos let you create a viable trading strategy that can be tested for its strong points and weaknesses. A demo Forex trading platform can be used extensively to develop and reinvent any trading strategy without risking any money in the markets. Demo accounts also allow a trader to become familiar with the dynamics of the market, which cannot be achieved by reading related books or other educational materials.
Some Of The Major Disadvantages Of A Free Demo Trading Account
The biggest drawback of a Forex demo account is the very fact that a demo account allows you to trade with virtual money, which prevents you from experiencing the emotions of losing real money in the market. It is possible for a trader to feel emotionally detached while trading with a virtual trading balance; therefore, a demo account will not reflect the true feelings of Forex trading. Most demo accounts offer the option of trading with hundreds of thousands of dollars in virtual capital, which will not truly represent the real trading conditions that apply to most trading balances. As a trader, you should start your demo account with a balance that is representative of your initial trading balance, which should help you with your trading career.
Sometimes, a broker offers a Forex practice account for a limited period of time and does not truly provide real market scenarios. For instance, ECN accounts are connected to liquidity providers that fill orders at market price. Sometimes, large orders are not usually filled due to a lack of liquidity, which leads to partial filling of orders. In a demo trading environment, all orders are accepted by the market due to the virtual nature of the account, regardless of the amount invested in a trade. Since all types of orders are accepted at market price, this leads to a loss in perspective of order positioning and live conditions of the market.
Numerous brokers sometimes exploit demo accounts by enticing traders with excellent results, thereby providing a false sense of confidence, which will ultimately lead to large losing positions. Brokers are also notorious for tampering with demo platforms to support a trader's decisions, which might not be entirely accurate according to existing market conditions. Therefore, if you do decide to trade on a demo platform, always work with a broker that is reputable, or use a demo account in conjunction with a live trading platform to ensure that all market information correlates with each other.
Do All Brokers Provide An FX Trading Demo?
Most FX brokers offer a free demo trading account, but some brokers might ask their customers to deposit money before being granted access to a trading account. You should always remember that there are countless brokers in the industry, and you have the option of choosing a company that satisfies your requirements. You should not feel tempted or forced into opening an account against your instincts, as you can easily open and trade on a demo trading account at virtually all leading mainstream brokers in the market. It is also common for some brokers to not offer an FX trading demo, hence, always make sure that the broker you choose offers you all the essential tools to succeed in the market.
The Transition From A Forex Trading Demo Account To A Real Account
The most crucial aspect of Forex trading is switching from online trading demo to a real trading account. Regardless of the time that you have spent on a Forex trading demo account, be prepared for a multitude of emotions, including fear, greed, doubt, over-confidence, revenge, and indecisiveness while putting real money on the line. Always leave your emotions at the door, and approach trading like you have experienced in your demo account.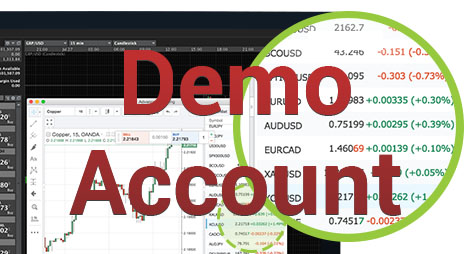 Only make the switch if you are confident about your trading strategy and your mindset, as even a slight deviation from your regular trading practice can mean a world of difference between winning and losing.
If you are not entirely confident of making the transition, you can always start trading with a micro account without investing your full capital. Micro accounts allow you to experience real-life emotions and various other aspects of trading that are apparently absent in a demo account. Once you begin to get comfortable with your real trading results, you can contemplate making the switch to a standard account with your entire capital being invested in the market.
Why Do A Majority Of Traders Avoid Online Trading Demo Accounts?
We have seen that a majority of traders jump straight into live trading without using a demo. There are several reasons for this phenomenon. First and foremost, beginner traders are curious about the markets and wish to invest in the market right away without bothering to learn the markets in a proper manner. There is also the impatience among new traders to make as much money as possible within a short span of time, which forces them into using high leverage and risking all their money in a single trade. Instead of considering FX trading as a business, most traders enter the market looking for that one million dollar trade that will make them rich overnight. Unfortunately, the Forex market will punish all undisciplined traders, regardless of their knowledge or experience.
Does An Online Trading Demo Offer Market Access To All Instruments?
You should be able to access all the financial instruments in the Forex market through an FX trading demo account, but some brokers might choose to limit the number of assets due to various reasons. Some brokers offer a broad range of instruments such as stocks, indices, bonds, treasuries, FX currencies, commodities, CFDs, and ETFs. On the other hand, some brokers only offer a maximum of 20 to 25 currency pairs and no other instruments, which is not too uncommon in the industry. It is up to you to find the best FX broker that offers all the instruments according to your trading requirements. At BestFXBrokers.com, we have compiled a list of the best Forex brokers in the market that can help you in choosing a trusted trading partner.
Is A Forex Trading Demo Only Suitable For Beginner Or Amateur Traders?
A Forex trading demo account is appropriate for both beginners as well as professionals. Demo trading is an option that allows traders to try out different strategies and test new indicators without risking their money while experimenting with new ideas. One should not confuse demo trading as a beginners step into the FX market; instead, it would be worthwhile to note that demo trading is an integral part of the industry that is simply a must for all traders, regardless of their stature. Immaterial of whether you are an amateur trader, or whether you are an accomplished professional, demo trading should be your primary choice of trading before adopting new trading strategies or new markets. A demo trading Forex account should help in avoiding significant loss of capital, which should be your primary aim in the Forex trading.
Most visited Forex reviews in 2021