OBRInvest Review
Established: 2013

Website: www.obrinvest.com
Country: Cyprus

Regulation: CySEC, CIF
4.7/5
Platform

4.7/5
Customer Support

4.8/5
Account Management

4.9/5
Levarage & Bonuses

4.1/5
Reliability / Security

4.5/5
In this OBRinvest review, We'll look at the broker's various features and services, as well as go over their trading platform live a little later. OBRinvest is a brand name of obr investments limited, which is authorized and regulated by the Cyprus Securities and Exchange Commission, and as such, provides a high level of safety and security of your funds, as the broker is required to comply with the regular requirements.
OBRinvest, a broker, also assesses the overall effectiveness of its clients.a financial institution regulated by respectable bodies like CySEC and FCI should be aware of how its client's trade, their achievements, and their troubles. As regards assistance, assistance can come in a variety of forms.
Consider a support service. I'd like you to know that OBRinvest's customer service is available 24 hours a day and is excellent. They respond to all questions swiftly and clearly. You can also find instructional materials on this broker's website. There are numerous articles on the subject of financial market trading. Trading techniques and fundamental analytical data are also available.

Fees and commissions
OBR Invest offers four different account types to meet traders' trading aims and capital: Basic, Gold , Platinum , and VIP . Demo accounts are available to help novice traders familiarize themselves with the broker's platform before committing to an actual trading account. The fee for the usage of the basic account is $250, for the gold account it is $25,000, Platinum $100,000 and for the VIP account $250,000.
There may be extra costs not stated in this OBR Invest evaluation because broker fees vary and change. Before you open an OBR Invest broker account for online trading, make sure you review and understand all of the newest information. The Brokerage does not have any stock fees.
OBRinvest does not impose any fees for deposits or withdrawals, and they can be made at any time. However, because of their policies, certain of the payment mechanisms they have in place require a proportion of your capital, which OBRinvest cannot change. Direct payments or payments to other parties are not accepted by the brokerage.
Safety
Two-factor authentication improves the security of your account significantly. Allowing Two Factor Authentication is strongly recommended for improved account security. This allows you to sign in with a time-sensitive code. It is recommended that you use Authy or Google Authenticator.
Opening an account
You must first register on the site before you can open a trading account. After you've completed the enrollment procedure and placed your funds into your OBRinvest account, you may start an MT4 trading account by following these simple steps.
Go to the dashboard first.
Select "trading accounts" from the drop-down menu.
Then select Open trading account from the drop-down menu.
You are now ready to begin trading with an OBRinvest forex broker with just three simple clicks.
Account types
Consumers can choose from four different account kinds on the site. Professional and retail clientele each have their own accounts. This means that the trading features of each account type have some limitations for each type of client.
Basic, Gold, Platinum, and VIP accounts are all available on the site. The disparities across accounts are immediately apparent, as the minimum deposit requirements and spreads are vastly different.
Market Buzz, Analyst Views, Featured Ideas, Economic Insight, Daily Market Analysis, and Web TV are all available to all accounts. According to the appearances, these are only random terms rather than actual features that might be exploited. We find it strange that these features are the same for all account types, but after conducting some investigation on the broker, it's evident that this is a scam.
Each account has relatively few, if any, unique characteristics. The only benefit is that each account receives a free withdrawal once a month. Basic accounts are entitled to one free withdrawal, gold accounts to two, and premium accounts to three; the VIP account is exempt from withdrawal fees. When one considers the minimum depositing criteria for each account, this is almost comical.
Trading Platforms
The OBRinvest web trading platform, as you can see. First and foremost, it has a very great, clean appearance, and we can see here that we have access to various quotes on the left-hand side, allowing you to create a list of favorites. The firm provides MetaTrader4, which is the primary trading software for the site. At this point, it's an industry standard to offer consumers this worldly renowned software.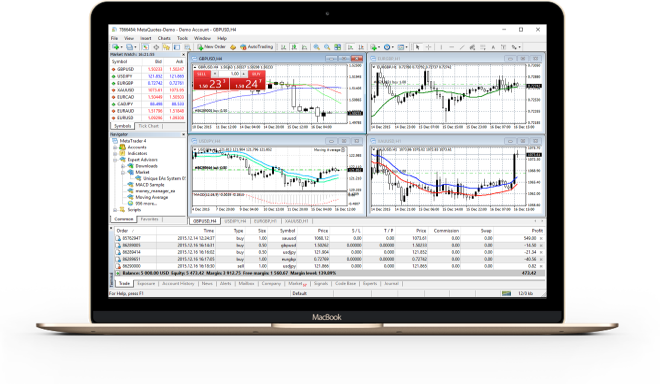 Markets and products
You can choose from a variety of currencies, and below is a list of all the different currencies accessible to trade on major miners and exotics. You have a wide variety of different cryptocurrencies here as well, okay, and you also have commodities here, so you have a wide variety of different commodities as well as stocks, so you have a wide variety of different stocks from all over the world, ETFs indices, so you can see a good selection of markets.
Trading Tools
We also have access to a chart on the far right inside, and these charts are extremely easy to use and clean-looking. We have multiple time frames at the top here, including minute charts. charts for four hours You may then switch between different time frames by looking at monthly charts. Many sorts of graphs, kanashii bar charts with um high candles line graphs putting up charts Provides access to many tools on the left-hand side Horizontal trend lines, for example, are useful sketching tools. So you know there's a fair number of hmm different tools here available, like Fibonacci tools and gan tools.
Education and Training
Each working day, a variety of webinars are accessible, but you must first reserve one. The only details you have about them are their cryptic titles and the dates of their occurrences. There's no hint of who will speak or where the event will take place. In order to book a webinar, you'll need to provide some extra information. The site's education part is a complete farce. There are no ebooks, video on demand, or discussion boards. OBRinvest simply contains a few sections dedicated to extremely brief articles that provide the most basic information on the subject of Forex trading. You can simply discover it using Google.
24/7 Customer support
The broker provides access to a variety of educational materials, including articles and tools via trading central and tip ranks, which we'll explore shortly, as well as a count our area with a number of frequently asked questions and customer care. Customer support is available through the contact us page and is available in multiple languages from 9 A.M. to 9 P.M. GMT plus 3 hours Monday through Friday through live chat, email, and phone as you can see here we've been connected to an agent literally within a couple of seconds um and who is currently asking and responding to our question it's great to have that level of fast customer service it's great to have that level of fast customer service
Overview
The brokerage firm has many advantages over other similar films as they offer multitudes of assets and account types. The firm is regulated and has been around since 2017. We highly recommend doing business with this forex brokerage firm because they have easy accessibility, great services, and lengthy educational material available on the site.
We couldn't finish our OBRinvest review without mentioning one of the Forex broker's unique features: bilingual customer care. They provide support in a variety of languages. OBRinvest, of course, has a strong media presence. They market their affiliate and broker programs on a multitude of sites. They are dedicated to providing you with additional information about the sector, which is why they offer a variety of courses on the subject.
Pros
There is no central exchange or governing body.
Volatility is a Trader's Best Friend at OBRinvest.
There are many different trading pairs to choose from.
The amount of capital required is modest.
Cons
The firm's services are not available in Belgium or Switzerland.
Monthly fees for inactivity and withdrawal costs are assessed.
Only services within the European Economic Area are available.
Safety
Safety of the consumer is an aspect of the firm that is paid much attention to; they like to make sure all of the trader data is secure with several implications like a two-factor authentication process and additional SSL encryptions on the site that make it more secure to access to.
Pros
Two-factor authentication process
The most recent SSL encryption
Purchase investment instruments with ease by transferring funds from your account.
You have access to a large network of no-fee ATMs.
Cons
Any money invested could lose value depending on the investments and market conditions.
Financial advisors may charge a fee for planning services.
Customer Support
The overall usage of their customer support channels has shown the remarkable work the service provider put into making the trader's experience on the site as swift and easy as possible.
Pros
Social media coverage
Multiplier accessible channels
Live chat
Multilingual Support
Cons
Complex issues will necessitate multiple emails to handle, lengthening the time spent on a single customer.
Expecting overseas clients to receive the same level of service as local clients can be unrealistic.