About Us
Forex trading has become more popular than ever over recent years, and increasing numbers of people are branching out into this lucrative financial market. However, a key part of investing is choosing a reliable Forex broker to execute your trades. While this may seem like a simple task, in fact it can be more complex than you would expect when you discover that there are countless operators online today, with new companies appearing on a regular basis. Should you opt for one of the larger and better known brokers, or choose the more personal service and exclusive experience of a smaller operator? Should you try to find a broker in your home country, or go for one that is based overseas? Should you go for a regulated broker or take a risk on an unlicensed operator? Our aim is to answer all of these questions and to make the process of choosing a suitable broker a simpler and less stressful experience so that you can get started with trading more quickly and enjoy greater profits without the need to worry about the safety and security of your funds.

Our Mission
Realising the need for a Forex website which offers all of the essential facts, reviews and information that traders need to enjoy success in their financial market ventures, we decided to establish BestFXBrokers – a one stop shop for detailed reviews of all of the Forex brokers currently operating on the worldwide web. With so many options to choose from, it can be hard to know which is the right broker for you, and, most importantly, which ones are reliable, trustworthy and reputable. We aim to take all of the guesswork out of choosing a Forex broker and help to speed up the process of finding an operator that you can rely on when it comes to the security of your personal details and financial transactions. Our goal is to provide both experienced and novice investors alike with all of the vital information that they need to make an informed decision when selecting the perfect Forex broker to meet their requirements.
The Team Behind BestFXBrokers
Based in London, the Capital of England, our experienced team have come together to share their combined skills and knowledge of the financial markets with both experienced investors and those who are brand new to trading and who are looking for some helpful pointers when it comes to choosing a broker. With over half a century of experience between them, our team are confident that over the years they have developed an acute awareness of everything that traders are looking for when they select a Forex broker and have set out on a mission of testing all of the current providers with these rigorous standards in mind. We try and test both well known and smaller Forex brokers alike to determine whether they can meet the demanding expectations of today's modern investors in terms of account variety, selection of financial instruments and markets, banking methods, customer service options and educational resources.
Our knowledgeable team include:
Alexej Varga
Alexej studied economics at the University of Economics in Bratislava and graduated with honours in 2001. Since then, he has worked in the field of global investment and finance, trading with a number of prestigious brokerages before making Forex his primary focus. Having been a full time Forex trader for the last 10 years, Alexej knows exactly what to expect from a high quality brokerage service and is keen to provide his first hand insight into the selection process.


Pavol Nagy
Having graduated from the Matej Bell University in 1996 with a Masters in Finance, Banking and Investment, Pavol spent a number of years working at the Bratislava Stock Exchange before embarking on a career as an independent trader and investor, a choice which allows him to spend more time with his wife and three sons. He is also a freelance lecturer, running courses on the subject of technical and fundamental analysis, and writes for several publications on the subject of investment. He is eager to share his knowledge of the financial markets with a wider audience.
Renata Balog
Originally from Kosice, Renata studied in the USA, obtaining an MBA in Finance from Columbia University. After securing a coveted Wall Street internship, she began work as a financial advisor, and for the next 15 years she was employed by several top firms across New York. In 2014, she returned to her native country where she now lives with her husband and daughter, working from home as a freelance investor and finance writer. She is pleased to be part of the team behind BestFXBrokers, helping others to enjoy success in their trading ventures.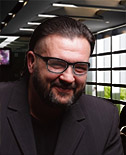 Stefan Molnár
Stefan is an independent financial advisor with 25 years of experience in the industry. He runs his own investment advice business and has a particular interest in Forex trading, with technical analysis being his speciality. Stefan is also a mentor and coach for aspiring Forex investors, imparting his wealth of experience in the financial markets to the next generation of traders.