VideForex Review
VideForex is a company that has ventured into the world of Forex and CFD trading to try their hand at one of the largest financial products in the market. Forex and CFD trading is a large legal activity across the world, but there may be some regulatory restrictions that vary from country to country. The owners of VideForex brokerage can no longer ignore the potential benefits of catering to the biggest group of speculators and investors and have decided to create a dedicated brokerage to offer FX and other CFD products through its existing platform.
VideForex faces various challenges in the highly competitive industry, where traders have access to some of the best brokerages and service providers to trade Forex and CFD products. The different options in the market have generated an immense amount of interest among global traders, but VideForex tries to emulate the successful strategy that has been adopted by the company for its sister concerns.
VideForex has several attributes that point to its history in binary options trading. The confusing information provided on its website also points to the bewildering fact that the company has yet to make a complete switch to the FX/CFD market. VideForex finds it hard to differentiate between its binary options services and Forex/CFD products, which is why we have compiled an extensive VideForex broker review for assessing the company's services.
VideForex Regulatory Data & Company Specs
Regulation plays a vital role in ensuring that companies adhere to strict protocols and financial transparency for providing a trusted brokerage service. Almost all established Forex brokers in the market are regulated by some of the top regulators in the market, but there are countless brokers that are also located in tax havens and countries with low operating costs. In the case of VideForex, we are afraid that the broker belongs to the latter. VideForex is a Seychelles-based Forex broker that is owned by Vide Projects Ltd., a standalone company that is operated by the Finance Group Corp. The Finance Group Corp., also known as the FGC, is predominantly a financial company dealing in different binary options properties and has its registered office in Vanuatu, another tax haven.
VideForex is a registered financial company in Seychelles, but there is no information about its regulatory status with the Seychelles Financial Services Authority. On the contrary, some of the other FGC entities have branches in the UK and other EU nations, which means that there is a reason to trust the broker for offering a legitimate brokerage service. We only recommend trading with an authorised company, and we would not endorse any broker that does not provide a registered address and proof of regulation. VideForex is transparent about its registration details and company information, thereby allowing us to have confidence in the company for offering an excellent quality financial product.
VideForex has managed to acquire close to 5500 active users since its launch in 2017, with a monthly transaction volume of close to $5 million. However, traders may feel confused by the differing information provided on the website, as VideForex advertises itself as a Forex and CFD broker, while the actual information indicates a binary options service. VideForex should offer more clarity for its traders, and we expect the company to update the information at the earliest.
VideForex Financial Instruments
VideForex is a part of a thriving group of binary options properties under the FGC brand, and we did expect the company to offer full access to its existing set of financial assets. True to their promise, VideForex has more than 160 instruments from four asset classes, namely, Forex, commodities, indices, and stocks. The company has also added a few cryptocurrencies to the mix, but the choice of cryptocurrencies is not as large as some of the other brokers.
Forex: EUR/USD, GBP/USD, USD/JPY, USD/CAD, EUR/JPY, EUR/GBP, USD/TRY, USD/RUB, USD/ZAR, USD/SGD, NZD/USD, USD/CHF, AUD/USD, GBP/RUB, EUR/RUB, GBP/JPY, GBP/CHF, AUD/CHF, EUR/CAD, AUD/JPY, CAD/JPY, AUD/NZD, EUR/AUD, GBP/CAD, NZD/JPY, AUD/CAD, EUR/NZD, EUR/CHF, BitCoin/USD, BitCoin/CNY, AUD/USD FUTURE, EUR/JPY FUTURE, USD/JPY FUTURE, GBP/USD FUTURE,EUR/USD FUTURE
Commodities: SILVER, PLATINUM, OIL (LIGHT SWEET CRUDE), Sugar, Coffee, GOLD/EUR, GOLD, GOLD FUTURE, OIL FUTURE
Indices: DOW (US), S&P 500 (US), NASDAQ (US), DAX (GERMANY), CAC (FRANCE), FTSE 100 (UK), ISE 30 (ISTANBUL STOCK EXCHANGE), RTS (RUSSIAN TRADING SYSTEM), MSM 30 (OMAN), TADAWUL (SAUDI STOCK EXCHANGE), DUBAI (DUBAI FINANCIAL MARKET GENERAL INDEX), KUWAIT (KUWAIT GENERAL INDEX), BOMBAY SE, HANG SENG (HONG KONG), SSE180 (SHANGHAI STOCK EXCHANGE), KL FUTURE, NIKKEI225(JPN), TEL AVIV 25, TOPIX, MICEX 10 (MOSCOW INTERBANK EXCHANGE), ASX, IBEX, FTSE F- DEC16, ASX F-DEC16, NIFTY F-SEP16, SMI, FAZ-SHORT BANKS(ETF), IBEX F-OCT16, HANG SENG F-SEP16, CSI 300, TSX 60, SHANGHAI COMPOSITE, DOLLAR INDEX-DEC16, GERMANY 10YR-DEC16, FTSE MIB F- DEC16, RUSSELL 2000, FTSE 250
Stocks: IBM, NISSAN MOTOR, TEVA PHARMA, TESCO, TURKCELL (TURKEY), TATA MOTORS (INDIA), HSBC HOLDINGS (LONDON), COCA COLA (US), SBERBANK (RUSSIA), LUKOIL (RUSSIA), BP (BRITISH PETROLEUM), GAZPROM (RUSSIA), NIKE (US), APPLE (US), MICROSOFT (US), CITI (US), ALPHABET Inc C (Google), F BP, S.BANK INDIA, EXXON MOBIL, BAIDU, AMAZON, DISNEY, GOLDMAN SACHS, INTEL, JP MORGAN CHASE, PFIZER, CATERPILLAR, BANCO SANTANDER, TELEFONICA, BANK OF AMERICA, AIG, YAHOO, NETFLIX, McDONALD'S, ANZ BANK, BHP-AU, RIO-AU, LAS VEGAS SANDS, WYNN RESORTS, EBAY, SONY, BOEING, WAL-MART, GENERAL MOTORS, GROUPON, MASTERCARD, SALESFORCE.COM, STARBUCKS, AXIS BANK, TATA STEEL, ROSNEFT, FACEBOOK, YANDEX N.V, CK HUTCHISON, BLACKBERRY, 3M, TENCENT HOLDINGS, TWITTER, MICRON, SINA, TESLA MOTORS, WEIBO, VTB BANK, ALIBABA, GENERAL ELECTRIC, JOHNSON & JOHNSON, MAZDA MOTOR, TOSHIBA CORP, SUMITOMO , MITSUI, TOYOTA (US), COLGATE-PALMOLIVE, FERRARI, LLOYDS BANK, BARCLAYS, BRITISH AMERICAN T, VODAFONE, RIO TINTO, CARNIVAL CRUZE
The varied assets available should keep even the most professional trader satisfied, but it may get tedious for beginner traders to choose a handful of instruments from the overall choice. Nevertheless, with practice and trading experience, traders should be able to choose their preferred instruments.
VideForex Bonus
Forex regulators are tightening their guidelines to prevent brokers from offering any promotions, which makes it all the more attractive to invest in reliable brokers operating from tax havens. By opening an account at VideForex, traders can choose anywhere between 20% and 100% deposit bonus, on top of the regular trading contest that assures of weekly prize money of $20,000. Each remarkable trader can earn up to $5000 in prize money for beating the competition, and the prizes are handed out every week.
VideForex Trading Platform
The use of VideForex platform does not induce much confidence, as the platform is a proprietary interface that offers both binary options and FX/CFD products through a Web Trader. Web traders have traditionally been marginally inferior to installable interfaces, as web-based interfaces don't provide the much-needed dexterity for trading. The VideForex Forex trading platform is also quite conservative in most regards, as it does not offer any advanced charting options, nor does it have any traditional features that are offered by leading third-party platforms.
We found the charting options to be quite limited, along with the availability of binary options trading that may confuse traders. Of course, there is also a concern for traders in countries where binary options trading is considered to be an illegal activity, as the all-in-one platform can lead to legal hurdles if traders are not careful with their trading activities. Therefore, VideForex's strategy of offering a Forex and CFD trading platform through its proprietary binary options platform may not be viable for the long term.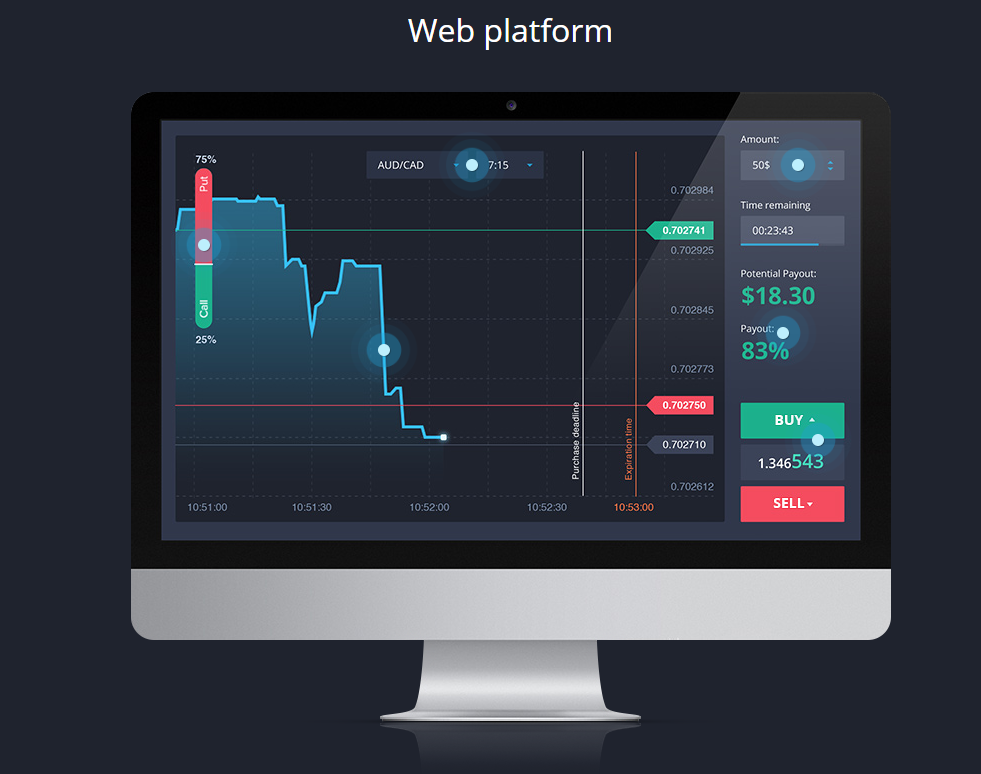 VideForex Mobile Platform
The VideForex apps for smartphones and tablets are developed as binary options platforms that also support Forex and CFD trading. Additionally, the Web platform can also be used for trading on mobile devices, but traders may prefer the apps available for Android and iOS devices. Once again, these mobile platforms are designed as binary options platforms, with an option to trade Forex and CFD products, which may dilute the effectiveness of these apps to a certain extent. Forex traders usually prefer a targeted app for trading the CFD market, which will be not only reliable for trading, but also provide advanced trading tools and features for comprehensive market analysis. Unfortunately, we can't expect the VideForex mobile trading platform to offer the same kind of performance or features as its rivaling mobile platforms.
VideForex Trading Protocols, Leverage, & Spreads
VideForex is an expensive broker that quotes high spreads for its assets. VideForex operates a market maker protocol, where all orders are transferred through an internal dealing desk. Aside from the conflict of interest that arise from such a brokerage protocol, the VideForex spreads can be quite large during regular market conditions, where 3 to 5 pips may not be uncommon for major currency pairs. The company also fails to provide a high margin for trading, where traders can utilise a maximum VideForex leverage of 1:100 for Forex and other assets. The low leverage and high spreads may deter high-frequency traders from opening a VideForex account.
VideForex Minimum Deposit, Accounts, & Withdrawals
VideForex has followed the exact layout of its other web properties, where the accounts are categorised into three distinct packages. The cheapest account is a Bronze account, which has a minimum deposit requirement of $250, but you get access to a free demo account, copy trading tool, and the basic account features. The Silver account should offer access to better services such as a personal success manager and an informative masterclass session, but the minimum investment is $1000. For VIP traders, the Gold account is the premium account option with a $3000 initial deposit requirement, but we would really recommend the Silver account, as it is not only the most popular choice, but it also offers all the required features that a trader will need.
A prominent feature of all FGC brokers is that they process all of their clients' withdrawals within an hour of a withdrawal request. The average withdrawal time for VideForex is 54 minutes, which is quicker than a majority of brokers. Quick deposits and withdrawals are facilitated through leading payment processors such as e-wallets, credit/debit cards, and cryptocurrency wallets. The broker adopts secure payment channels for the best in funds safety and holds all clients' money in top European bank accounts.
VideForex Customer Support
VideForex offers a prominently placed live video chat feature that grants access to an actual customer service representative for 24 hours a day and seven days a week. We found that the broker's customer service to be one of the best in the industry, and traders can be further elated by the presence of an actual human being answering their queries in real time. Of course, traders can also utilise the web contact form or the phone numbers for contacting the broker directly, but the live video chat feature is the more preferred customer interaction platform for existing clients.
VideForex Verdict
Pros
VideForex is a part of an established group of financial companies operating in the Forex and CFD market.
All traders get access to one-hour withdrawal.
The bonus on offer can reach up to 100% of the deposit amount.
VideForex has one of the best customer interaction channels in the market.
Also offers binary options trading along with FX/CFD trading.
Copy trading tool is available across the different account packages.
Cons
VideForex is based out of Seychelles, and may not offer a highly regulated service as some of its peers.
The trading platform offers a confusing layout and does not have a dedicated Forex and CFD trading interface.
The cost of trading is high.
FAQ
Can Traders Open A Free Demo Account?
Traders should open a real account and make a deposit for accessing the demo account. The deposit can be withdrawn if the trader wishes to close the account if they are not satisfied.
Are My Payments Secure?
VideForex adopts 264 bit SSL encryption and 3D Secure for its payment pages, so all payments are indeed secure.
How To Open An Account?
Opening an account at VideForex is easy, as you can sign up with an email address. You must verify your account before you can make a withdrawal.
Summary
VideForex's services are designed to offer a competitive Forex and CFD trading platform for retail traders, but there are some intriguing, as well as a few questionable aspects of trading the market with a VideForex account.