Raceoption Account Introduction
Established: 2014

Site: www.raceoption.com
Country: N/A 

Regulation: N/A 
5/5
Platform

4/5
Customer Support

3/5
Account Management

5/5
Leverage & Bonuses

4/5
Reliability / Security

4/5
The binary options market is witnessing a change in the way investors perceive their investment strategies. While there are companies, brokers, and speculators that aim to make insane profits from the concept of binary options trading, new regulations and improved trader awareness have indeed helped in minimizing the number of financial scams that are commonplace in the industry. Several Governments and even regulators have come to the fore to restrict companies from taking undue advantage of investors, which has largely helped in saving the reputation of binary options trading as a viable investment vehicle.
Raceoption is a binary options broker that is very new to the market, but one that has a significant presence in the market through other websites that offer similar services on a scalable platform. In spite of being a new company, Raceoption does count on its experience and market expertise to provide some of the best products that are guaranteed to offer a reliable trading environment. For the best information on Raceoption trading accounts, continue reading our Raceoption review!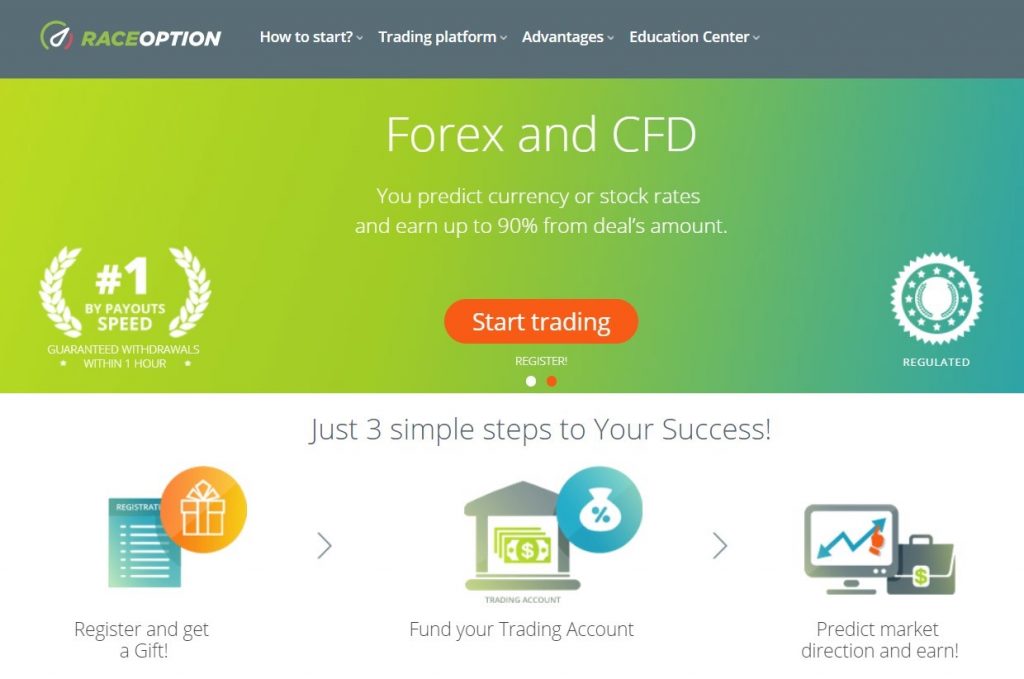 Company Information & Raceoption Regulatory Details
Raceoption regulation may not be a strong suite for the company, as the broker is registered in Seychelles under the Race Projects Ltd. trademark. Raceoption is just an extension to another similar binary options brokerage, known as Finrally, which is owned and operated by the same company behind the Raceoption trademark. Race Projects Ltd. is a registered brand name of Finance Group Corp., which is a company that has a registered office in Vanuatu. Therefore, it is apparent that the company has based its business out of low-cost environments, sometimes referred to as tax havens, to enjoy tax breaks and other regulatory benefits.
FGC has been launching several binary options brokerages in recent years, and Raceoption is one of the newest launches by the company. Although the company boasts of strong fundamentals, we believe that the FGC may have missed an opportunity to move its presence to Europe or other better-regulated countries, as it could have helped in improving the company's overall reputation. Nevertheless, there are some secure aspects about the company that induces a certain amount of confidence among prospective clients.
Raceoption Tradable Assets
The choice of 160 different financial instruments should be able to keep most professional traders satisfied, with a wide range of binary options available including forex, commodities, cryptocurrencies, indices, and shares. Do note, however, that cryptocurrencies are currently restricted for traders within the UK. This choice of assets is as expected from the FGC group of brokerages, and the company hasn't modified the choice of instruments in any way. We have listed all the available assets below for your reference:
Forex: EUR/USD, GBP/USD, USD/JPY, USD/CAD, EUR/JPY, EUR/GBP, USD/TRY, USD/RUB, USD/ZAR, USD/SGD, NZD/USD, USD/CHF, AUD/USD, GBP/RUB, EUR/RUB, GBP/JPY, GBP/CHF, AUD/CHF, EUR/CAD, AUD/JPY, CAD/JPY, AUD/NZD, EUR/AUD, GBP/CAD, NZD/JPY, AUD/CAD, EUR/NZD, EUR/CHF, BitCoin/USD, BitCoin/CNY, AUD/USD FUTURE, EUR/JPY FUTURE, USD/JPY FUTURE, GBP/USD FUTURE,EUR/USD FUTURE
Commodities: SILVER, PLATINUM, OIL (LIGHT SWEET CRUDE), Sugar, Coffee, GOLD/EUR, GOLD, GOLD FUTURE, OIL FUTURE
Indices: DOW (US), S&P 500 (US), NASDAQ (US), DAX (GERMANY), CAC (FRANCE), FTSE 100 (UK), ISE 30 (ISTANBUL STOCK EXCHANGE), RTS (RUSSIAN TRADING SYSTEM), MSM 30 (OMAN), TADAWUL (SAUDI STOCK EXCHANGE), DUBAI (DUBAI FINANCIAL MARKET GENERAL INDEX), KUWAIT (KUWAIT GENERAL INDEX), BOMBAY SE, HANG SENG (HONG KONG), SSE180 (SHANGHAI STOCK EXCHANGE), KL FUTURE, NIKKEI225(JPN), TEL AVIV 25, TOPIX, MICEX 10 (MOSCOW INTERBANK EXCHANGE), ASX, IBEX, FTSE F- DEC16, ASX F-DEC16, NIFTY F-SEP16, SMI, FAZ-SHORT BANKS(ETF), IBEX F-OCT16, HANG SENG F-SEP16, CSI 300, TSX 60, SHANGHAI COMPOSITE, DOLLAR INDEX-DEC16, GERMANY 10YR-DEC16, FTSE MIB F- DEC16, RUSSELL 2000, FTSE 250
Stocks: IBM, NISSAN MOTOR, TEVA PHARMA, TESCO, TURKCELL (TURKEY), TATA MOTORS (INDIA), HSBC HOLDINGS (LONDON), COCA COLA (US), SBERBANK (RUSSIA), LUKOIL (RUSSIA), BP (BRITISH PETROLEUM), GAZPROM (RUSSIA), NIKE (US), APPLE (US), MICROSOFT (US), CITI (US), ALPHABET Inc C (Google), F BP, S.BANK INDIA, EXXON MOBIL, BAIDU, AMAZON, DISNEY, GOLDMAN SACHS, INTEL, JP MORGAN CHASE, PFIZER, CATERPILLAR, BANCO SANTANDER, TELEFONICA, BANK OF AMERICA, AIG, YAHOO, NETFLIX, McDONALD'S, ANZ BANK, BHP-AU, RIO-AU, LAS VEGAS SANDS, WYNN RESORTS, EBAY, SONY, BOEING, WAL-MART, GENERAL MOTORS, GROUPON, MASTERCARD, SALESFORCE.COM, STARBUCKS, AXIS BANK, TATA STEEL, ROSNEFT, FACEBOOK, YANDEX N.V, CK HUTCHISON, BLACKBERRY, 3M, TENCENT HOLDINGS, TWITTER, MICRON, SINA, TESLA MOTORS, WEIBO, VTB BANK, ALIBABA, GENERAL ELECTRIC, JOHNSON & JOHNSON, MAZDA MOTOR, TOSHIBA CORP, SUMITOMO, MITSUI, TOYOTA (US), COLGATE-PALMOLIVE, FERRARI, LLOYDS BANK, BARCLAYS, BRITISH AMERICAN T, VODAFONE, RIO TINTO, CARNIVAL CRUZE.
Raceoption Promotions
Raceoption has not cut any corners while offering promotions and offers, as it is one of the important considerations for any trader who wishes to trade with a new company. Raceoption bonuses come in different varieties, which include a deposit bonus, risk-free trades, and trading contests. The minimum Raceoption bonus for a deposit is 20% and can go all the way up to 100% for larger deposits, but it is the $20,000 per week contest prizes that get us interested. The winning trader can receive up to $5000 in prize money, and they are also protected with the three risk-free trading insurance policy, thereby resulting in one of the best promotional offers that are currently on offer.
Although bonuses may seem like a significant advantage at first, traders must realise that a broker reserves the right to impose any bonus trading condition as they desire. In fact, the bonus terms and conditions have often created confusion and disputes between brokers and traders, and you should also be careful while choosing a Raceoption bonus. The broker has several trading and withdrawal restrictions, which may not be suitable for all traders.
Raceoption Accounts & VIP Options
The Raceoption VIP account is offered in the form of a Gold account, where traders have to invest at least $3,000 for premium privileges. The Gold account is the most expensive account yet for the broker, and has several advantages such as a master class session, integrated technical analysis, personal success manager, demo account, copy trading tool, and one-hour withdrawal.
For a lower deposit of $1000, the broker offers the Silver account, which offers most of the Gold account benefits, except for the integrated technical analysis and some other VIP benefits. If you are looking for the cheapest option, the Bronze account with a Raceoption minimum deposit of $250 should be more suited to your requirements, but you don't get account privileges such as a personal success manager and master class sessions.
Raceoption Platform
One glance at the Raceoption Web platform, and it is easy to understand why FGC has continued to adapt its proprietary platform across all binary options properties. The excellent trading interface not only has one of the most pleasing trading layouts but also offers a live video chat feature that provides 24X7 support for all account holders.
The Raceoption binary options platform has all the basic trading functionalities that one would expect from a contemporary platform, which includes a basic chart, trading information, account details, and other essential trading features. The platform indeed performs as expected, and we don't have any serious concerns regarding the reliability of the trading terminal.
Raceoption Apps For Mobile Trading
The advantages of the Raceoption platforms are evident on mobile devices as well, since the browser-based interface provides a highly scalable interface that works seamlessly on smaller screens.
The Raceoption mobile platform uses a responsive theme that is compatible with most browsers for smartphones and tablets, but there is also a standalone app for trading on Android and iOS devices. The Raceoption mobile apps work exceedingly well and have similar levels of performance when compared to some of the leading binary apps available for mobile trading.
Raceoption Payouts & Fees Of Trading
Raceoption offers some of the best trading conditions and has a low investment per trade starting from $1. Despite the relaxed trading conditions, Raceoption offers a remarkable payout of up to 90% for in-the-money trades, but realistically, the broker offers around 60% to 90% payouts for regular binary options. As far as the products are concerned, there are short-term, intra-day, and long-term options for more than 160 assets on offer, making it easy for the trader to choose a binary option that suits his/her trading preferences. Regardless, we did expect the company to offer some high-yield options such as Ladder and Touch options, which could have generated higher profits, but for regular options, Raceoption certainly has some interesting products in its lineup.
A majority of brokers don't charge any fees for trading, which is also the case with Raceoption. However, we were surprised to learn that Raceoption offers the convenience of being flexible with trading strategies. Raceoption is one of the very few brokers that allow trade management, where trades can be closed prematurely, or extended based on the market conditions.
The double-up function gives an opportunity to double the investment on a winning trade, while the rollover function can be used to prolong the expiry time if a trade does not conform to your position during your original contract period. The early sell-out feature can also be used diligently to close trades at a smaller loss, which further ensures that Binary Options can be traded along the lines of traditional financial products.
Raceoption Funding Options
Raceoption utilizes its parent company's association with numerous payment processors, which allows traders to fund and withdraw their trading capital through bank transfer, credit/debit card payment, and e-wallets. The availability of cryptocurrency funding also adds another dimension to the payments, helped in part by the secure encryption protocols adopted for maintaining a safe payments platform. Traders also don't have to worry about the speed of withdrawals, as the broker offers a one-hour withdrawal guarantee.
Raceoption Customer Interaction
The live chat feature would certainly be a highlight of the broker's customer service channel, as the company employs a team of professionals to interact with traders through a live video chat interface. The live support is online 24X7 and is also accessible through phone and web contact form, but almost all traders have reported the live video chat feature to be the best option to get detailed support from the company. All account issues and queries are resolved within minutes.
Raceoption Verdict
Pros
One of the best platforms in the market.
24X7 customer service through live video chat.
Payouts are as high as 90%.
Up to 100% deposit bonus and availability of trader contests.
Three risk-free trades insurance.
Excellent choice of financial instruments.
Withdrawals in 1 hour
Cons
Does not cater to traders from countries with a strict regulatory framework.
Not as secure as the other brokers in the market.
Demo account is only offered to verified clients.
FAQ
Does Raceoption Offer A Copy Trading Tool?
Yes, a copy trading tool is available to all account holders, which allows traders to copy trades from more experienced and successful traders.
How Long Does It Take For Deposits & Withdrawals?
Deposits are instant for credit/debit card and e-wallet payments, while withdrawals are processed within an hour.
Does Raceoption Offer A VIP Account?Yes, Raceoption has a premium account option, known as the Gold account. Where you can get a 100% bonus and enjoy a copy trading tool.
Summary
Raceoption has an incredibly effective and reliable binary options platform, where traders can enjoy the freedom to trade the markets with the promise of competitive payouts and an excellent choice of assets.