Are You Making These 7 Common Binary Options Mistakes?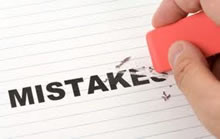 A smart man once said "success leaves clues." If you observe successful people long enough, you'll notice they share several common traits. It's true of athletes, business owners, and investment bankers. It's also true of those who do well trading binary options. Emulate their successful traits, and your own chances of success will improve significantly.
The flip side of that equation is that failure also leaves clues. If you observe folks who have gone bankrupt multiple times, watched their businesses implode, or gotten fired from every job they've had, you'll notice they too share common traits. Learn from their mistakes, and you'll be much less likely to make them yourself.
That's especially important when you trade binary options. You'll see the same blunders result in losses over and over. If you're thinking they're only made by rookies, think again. Even seasoned pros make them. Below, we'll cover the 7 most common binary options mistakes to watch out for. Avoid them to save yourself a lot of time, money, and frustration.
#1 – Chasing Losses
One of the worst things you can do is give into the temptation to chase your losses. In most cases, doing so will result in even larger losses (and maybe some weeping).
This tendency is common among folks who operate without a binary options trading system. They're buffeted back and forth by their wins and losses, which are all but arbitrary. When they lose, they're more inclined to get into foolish trades in an attempt to recoup their money.
Realize this ahead of time: a majority of your trades will expire out of the money. Racking up losses is not a problem as long as you have a system in place that produces consistent winners. Having said that, if your last 20 trades have ended badly, it may be time to reevaluate your trading system.
Do you have a trading strategy? Use this as a guide for a basic trading strategy
#2 – Trading Binary Options Without A System
At its simplest, a trading system is nothing more than a set of guidelines. Those guidelines tell you when to get in and out of trades, when to stay on the sidelines, and how much of your money to place at risk. When you have a system in place, you're no longer forced to rely on your gut instinct. Instead, you can look for signals that indicate when you should execute trades, doing so with confidence.
Consider what it is like to trade binary options without such a system. You have no idea whether the price of a given asset will move in one direction or the other. And when prices do move, you have little insight regarding when to jump in and when to jump out.
In essence, you're flying blind. Every decision becomes a guess, which is a dangerous way to trade binary options.
#3 – Putting Too Much Money At Risk
We've mentioned several times that bankroll management is critical. If you don't learn how to control your cash, there is a very high likelihood it will disappear. And if you happen to be trading 60 second binary options, there's a good chance it'll happen quickly.
Learn to manage your money. It's not hard. It's just a matter of putting a few simple rules in place. For example, commit to never putting more than 5 percent of your bankroll into any one trade. Remember, a large percentage of your options will expire out of the money. Don't put too much at risk at one time.
If you're just starting out with binary options, we highly recommend instituting a graduated scale based on your experience with trading and charting. For instance, keep individual trades under 1 percent of your bankroll for the first two weeks. Keep them under 2 percent for the following two weeks. As you grow accustomed to charting and become better at identifying entry and exit points, you'll have more confidence in your trades. Increase the amount you invest accordingly.
#4 – Confusing Fundamental And Technical Analysis
When traders talk about analysis, they're usually referring to technical analysis. This is a method of looking at recent price data for a particular asset and predicting future price movements based on past trends. That is what charting is all about. The charts help you to identify trends, which in turn reveal buy and sell signals.
You've probably seen candlestick charts, even if you didn't know what they were at the time. They might even have had support and resistance lines and pivot points drawn out on them. That's technical analysis. It's simple to perform once you know what to look for (be sure to check out our candlestick chart tutorial).
Fundamental analysis is a method of valuing an asset based on a variety of external factors. The factors examined are based on the asset being analyzed. For example, you might look at interest rates to value a bond issue or a company's debt-to-income ratio to value its common stock.
This type of analysis can be useful when trading binary options. Changes in GDP, retail sales, the consumer price index, non-farm payroll, and unemployment rate often trigger market moves. But as a general rule, technical analysis – that is, evaluating recent price data – provides stronger signals and leads to quicker decisions.
#5 – Trading Binary Options Based On Instinct
Betting against the long-term results of gut instinct is one of the surest bets you can make. Things usually turn out badly for folks who trade based on nothing but their intuition.
No one has a reliable sixth sense about the movement of asset prices. You may get lucky, scoring an occasional profit with random guesses. But don't be fooled into thinking you can do so consistently. It's a seductive thought, especially after you make several correct guesses in a row. But the long-term odds are against your instinct.
Making a consistent profit trading binary options requires analysis. It takes time and effort. It takes patience. And while analyzing charts is hardly anybody's idea of a good time, doing so can produce a string of winning trades for you.
Learn more about setting up your charts here
#6 – Starting With Real Money
There are now several reputable binary options brokers that will provide you with a demo account when you register and make your first deposit. Our favorites are TradeRush and 24Option. You're only required to deposit $200 to be eligible for a no-risk demo account. Banc De Binary has a stellar reputation and will set up a demo for you, but they require a $500 deposit. Marketsworld.com actually sets people up with free demo accounts without requiring a deposit at all.
If you're learning the ropes, get some experience without putting your own money at risk. If you want to learn more about any of the four brokers we mentioned above, read through our reviews. You'll find them below:
#7 – Assuming Every Broker Is Legitimate
Similar to stockbrokers, there are legitimate binary options brokers and disreputable ones. The former have a track record for making timely payouts, hosting an easy-to-use platform, requiring a low minimum deposit, and offering competitive returns. Those are the brokers to stick with.
This industry is still relatively young. As a result, there are a lot of brokers that are less than trustworthy. We've been reviewing the best of the bunch over the past couple of years, and cover them in detail on this site. We suggest picking from among those on our list.
You're going to make mistakes when trading binary options. It's part of the territory. It's part of the education process. The key is to avoid making the same costly mistakes over and over. Review the list above to ensure you're taking every step possible to trade intelligently and profitably.
Discover Our Top Binary Option Brokers

If you want to put your new binary knowledge to good use, why not register with one of our top brokers? Our experts have tested these brokers to ensure they're safe, fair, and rewarding. Below, you can learn more about each binary broker. Once you've found the right one for you, register for a demo or live trading account to practice your skills.