10Trade Introduction
Owned and managed by Holiway Investments Limited, 10Trade.com was one of the first binary options to offer their clients a safe and secured trading environment. As a regulated broker, 10Trade.com is required to comply with certain regulatory requirements that are designed to protect the interest of traders.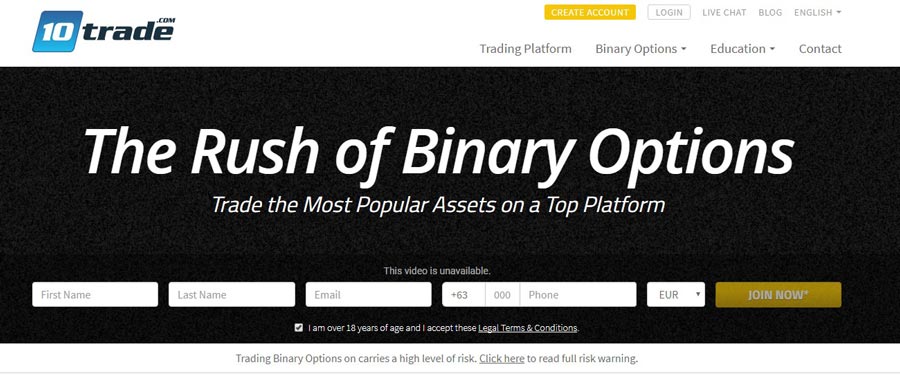 Company information
10Trade.com is an online binary options trading platform that belongs to a Cyprus Investment Firm (CIF) called Holiway Investments Ltd. Their head office is located at #30 Tempon Street, Engomi, 2408 Nicosia, Cyprus. It is regulated by the Cyprus Securities Exchange Commission (CySEC) under the CIF license number 248/14. Under the operating requirements imposed by CySEC, 10Trade.com has to ensure that it maintains sufficient liquidity to meet the contractual obligations to its traders.
In addition, it also has to maintain segregated accounts for its traders' funds. 10Trade.com is also required to regularly submit audited reports on its financial status to CySEC to ensure its compliance with all the regulations. Finally as a CySEC regulated broker, 10Trade.com is also obligated to be a participating member of the Investors Compensation Fund Scheme. Under this scheme, 10Trade.com's clients can file for compensation up to a maximum amount of 20,000 euros in the event 10Trade.com becomes insolvent.
Trading Platform
As for 10Trade.com's trading platform, the broker uses a white labelled trading platform powered by SpotOption trading engine. The platform is the second generation platform developed by SpotOption and is widely adopted by binary options brokers from all over the world.
With this well designed platform, you can trade the markets with 5 different types of option contracts, Classic binaries, Pairs, Long Term, 60 seconds, One Touch and Ladder.
These are the typical Call/Put options where traders are required to determine if the current price will end up higher or lower than expiry price.
With Pairs, the trader has to determine which of the two assets will perform better.
Long term options are basically Call/Put options with longer term expiry period. They can range from a few days to as long as a year.
With 60 seconds options, the trader has to determine the outcome of the price movements within 60 seconds.
For One touch options, the trader has to decide if the market price of the asset will touch the strike price before the expiration of the option contract.
Ladder options are a unique feature of the SpotOption powered trading platform. The options come will several strike prices which a trader can pick and choose to see which of the price level that the expiry price will hit.
Mobile
Apart from the web based platform, 10Trade.com also offers mobile trading apps which traders can download and install onto their smartphones or tablets. These mobile apps were developed specifically to optimize the smaller screens found on smartphones and tablets. Depending on the operating system of the mobile devices, the apps can be downloaded free from Google Play Store or Apple's App Store.
Assets Available
In terms of trading assets, 10Trade has one of the widest selections around for a binary options broker. In total, there are 189 individual underlying assets for 10Trade's clients to choose. They cover all the major asset classes such as currencies, commodities, market indices and equities. For currency pairs, there are 29 pairs to choose from. Available market indices and commodities totalled 37 indices and 9 different commodities. Equity forms the bulk of 10Trade's asset index, totaling 114 different stocks. The following table shows the complete list of underlying assets that are available to trade with.
Currencies: AUD/CAD, AUD/CHF, AUD/JPY, AUD/NZD, AUD/USD, CAD/CHF, CAD/JPY, CHF/JPY, EUR/AUD, EUR/CAD, EUR/CHF, EUR/GBP, EUR/JPY, EUR/NZD, EUR/RUB, EUR/USD, GBP/CAD, GBP/CHF, GBP/JPY, GBP/USD, NZD/JPY, NZD/USD, USD/CAD, USD/CHF, USD/JPY, USD/MXN, USD/RUB, USD/TRY, USD/ZAR.
Commodities: COPPER, CORN, GOLD, OIL, PLATINUM, SILVER, SUGAR NO. 11, WHEAT.
Indices: ASX FUTURE, BOMBAY SE, CSI 300, DAX, DAX FUTURE, DOLLAR INDEX F., DOW, DUBAI, EURO STOXX 50, EURO STOXX 50 F, FTSE 100, FTSE FUTURE, FTSE MIB FUTURE, GERMANY 10YR BOND, HANG SENG, HANG SENG F. HSI, IBEX, IBEX FUTURE, KUWAIT, MICEX, NASDAQ, NASDAQ FUTURE, NGAS FUTURE, NIFTY FUTURE NIFTY, NIKKEI 225, NIKKEI FUTURE, S&P 500, S&P FUTURE, SHANGHAI COMPOSITE, SMI FUTURE, SSE180, TADAWUL, TNA-LONG X3, TSX 60, TZA-SHORT X3 CTG, U.S 10 YEAR NOTE, U.S 30 YEAR NOTE.
Stocks: 3M, ADIDAS, AIG, ALCOA, ALIBABA, ALLIANZ SE, AMAZON, ANZ BANK, APPLE, ASX, ATHENS, AXIS BANK, BAIDU, BANCO SANTANDER, BANK OF AMERICA, BARCLAYS, BASF AG, BAYER AG, BHP-AU, BLACKBERRY, BMW, BOEING, BOVESPA-F, BP, BRITISH AMERICAN TELECOM, CATERPILLAR, CHEUNG KONG, CITIGROUP, COCA COLA, COMMONWEALTH BANK, DAIMLER AG, DEUTSCHE BANK, DEUTSCHE TELEKOM, DISNEY, E.ON SE, EBAY, EXXON MOBIL, F5 NETWORKS, FACEBOOK, FAZ-SHORT BANKS, FREEPORT MCMORAN, GAZPROM, GENERAL ELECTRIC, GENERAL MOTORS, GOLDMAN SACHS, GOOGLE, GROUPON, H & M, HSBC HOLDINGS, HSBC-HK, HUTCHISON, IBM, ING GROUP, INTEL, JAKARTA SE, JOHNSON & JOHNSON, JP MORGAN CHASE, KING DIGITAL (CANDY CRUSH), KOSPI, LAS VEGAS SANDS, LINKEDIN, LLOYDS BANK, LUKOIL RS, MASTERCARD, MAZDA MOTOR, MCDONALD'S, METRO AG, MICRON, MICROSOFT, NETFLIX, NIKE, PETROBRAS, PFIZER, PING AN INSURANCE, PROCTER & GAMBLE, RIO TINTO, RIO-AU, ROSNEFT, RTS FUTURE, RUSSELL 2000, S.BANK INDIA, SALESFORCE.COM, SANDISK, SAP, SAUDI REFINERIES, SBERBANK, SEARS HOLDINGS, SIEMENS AG, SINA, SONY, STARBUCKS, SUMITOMO MITSUI, TATA MOTORS, TATA STEEL, TEL AVIV 25, TELEFONICA, TENCENT HOLDINGS, TESCO, TESLA MOTORS, TEVA.TA, TOPIX 100, TOSHIBA CORP, TOYOTA (US), TWITTER, UNICREDIT, VODAFONE, VOLKSWAGEN, VOLVO, WAL-MART, WEIBO, WESTPAC, WYNN RESORTS, YAHOO, YANDEX N.V.
In addition to the listed assets above, 10Trade has also provided a selection of 29 pairs of underlying assets that belongs to the same asset class which are traded with Pair options. These paired assets include the following:
AMAZON VS EBAY, AMAZON VS NETFLIX, APPLE VS AMAZON, APPLE VS GOOGLE, BARCLAYS VS LLOYDS BANK, BMW VS DAIMLER, CITIGROUP VS AIG, CITIGROUP VS JP MORGAN CHASE, DAX F VS FTSE F, FACEBOOK VS TWITTER, GOLD VS OIL, GOLD VS SILVER, GOOGLE VS BAIDU, GOOGLE VS FACEBOOK, LINKEDIN VS FACEBOOK, LINKEDIN VS TWITTER, MAZDA VS TOSHIBA, NASDAQ VS APPLE, NIKKEI 225 VS TOSHIBA, NIKKEI VS SUMITOMO MITSUI, RIO-AU VS BHP-AU, S&P 500 F VS NASDAQ F, SIEMENS VS E.ON, STOXX 50 F VS FTSE F, VOLKSWAGEN VS DAIMLER.
Trading Accounts, Bonuses & VIP Programs
Trading accounts at 10Trade are categorized into 5 types, "Welcome account", "Bronze account", "Silver account", "Gold account" and "Platinum account".
Welcome Account
Minimum deposit €500
2 Weeks Access to Trading Central
Daily Market Reviews
Digital Online Ebook
Platform Tutorial
Bronze Account
€1,000 minimum deposit
Daily Market Reviews
Digital Online Ebook
Introduction to Market Analysis
One Month Access to Trading Central
One Trading Strategy Supplied
Platform Tutorial
Silver Account
€2,500 minimum deposit
Daily Market Reviews
Digital Online Ebook
Introduction to Market Analysis
Three Month Access to Trading Central
Two Trading Strategies Supplied
Platform Tutorial
Gold Account
€5000 minimum deposit
Daily Market Reviews
Digital Online Ebook
Introduction to Market Analysis
Six Month Access to Trading Central
Three Trading Strategies Supplied
Platform Tutorial
Platinum Account
€10,000 minimum deposit
12 Month Access to Trading Central
Daily Market Reviews
Digital Online Ebook
Express Withdrawals
Five Trading Strategies Supplied
Introduction to Market Analysis
Money Management Training
Optional Tablet
Platform Tutorial
Deposits and Withdrawals
For payment methods, 10Trade support deposits and withdrawals through credit cards, bank wire transfer and eWallets. The minimum deposit amount is usually $200 depending on the currency of the account as well as the account type. For withdrawals, the minimum withdrawal amount is $30 for credit cards and $100 for bank wire transfer. The average processing time for a withdrawal request is 3 business days. However, it should be noted that it can take up to 7 days for the entire withdrawal process to be completed.
Customer support
For the benefit of their non English speaking clients, 10Trade's website is also translated in 7 different languages. These languages include French, Arabic, German, Dutch, Italian, Spanish and Russian. The support services are available through email, live chat and the telephone on a 24/7 basis. For telephone support, 10Trade has also provided more than 60 localized telephone support numbers to cater for their clients within the European Economic Area.
Extra features and resources
To help their traders improve on their trading knowledge, 10Trade also offers a list of tools which beginner traders can access. There are numerous articles as well as an eBook for reference. In addition, Trading Central also regularly host webinars which all traders can participate in. But one truly unique feature of 10Trade is their 10TradeRadio broadcast. The radio provides 10Trade's traders with regular updates of the developments happening in the markets. In addition, there is also a detailed FAQ and Glossary which traders can use for quick reference.
Verdict
Overall, 10Trade is a solid binary options broker. The broker is able to meet all of their clients' trading needs, regardless of their experience level. With the different choices of trading account and wide selection of trading assets, there is always something for everybody at 10Trade.
Pros
Well regulated binary options broker
Multiple choices of trading accounts
Wide selection of underlying assets
Intuitive trading platform
Cons
Limited options in terms of digital wallets
FAQ
What Bonuses are available at 10Trade?
Due to regulatory requirements, 10Trade has now withdrawn all their bonus offers.
What payment methods are supported by 10Trade?
Payment methods that are supported by 10Trade include all major credit cards, bank wire transfer and selected eWallets.
What is the minimum and maximum deposit requirement?
The minimum deposit requirement is $200 whereas the maximum deposit amount is unlimited for bank wire transfer and $20,000 for credit cards.
How long does it take for a withdrawal request to be processed?
A withdrawal request normally takes 3 days to be processed. The entire withdrawal process however can take up to 7 business days.
Is 10Trade a safe broker?
Yes, 10Trade is a safe broker it is regulated by the Cyprus Securities Exchange Commission.
What languages are supported by 10Trade's customer support?
7 other languages besides from English are supported by 10Trade's customer support. They include Arabic, French, German, Russian, Italian, Spanish and Dutch.
Discover Our Top Binary Option Brokers

If you want to put your new binary knowledge to good use, why not register with one of our top brokers? Our experts have tested these brokers to ensure they're safe, fair, and rewarding. Below, you can learn more about each binary broker. Once you've found the right one for you, register for a demo or live trading account to practice your skills.