AnyOption has ceased all operations. Please visit our recommended brokers page.
_________________
Anyoption.com Binary Broker Review
AnyOption is arguably one of the best binary options brokers in the industry. They have a stellar reputation, offer industry-leading rebates on losses, and have fast and timely payouts. If you are looking for a safe place to trade then we feel comfortable recommending AnyOption.com.
Official Website: www.anyoption.com
Headquarters: Cyprus
Phone Number: 866-844-4540 (USA)
Email Address: [email protected]
USA Traders Allowed
Trading Platform Used: AnyOption Platform
Deposit Information
Minimum Deposit: 100 USD/GBR/EUR
Deposit Methods: Credit Card, Electronic Payment, Wire Transfer
Credit Cards Accepted: Visa, Mastercard, Diner's Club International
Electronic Payments Accepted: MoneyBookers
Minimum of $100USD for Wire Transfer
AnyOption Scam? – Is There A Scam About Anyoption?
Anyoption is not a scam. They are a legitimate binary options broker and they have maintained one of the highest trust reputations of any of the brokers we list. Most of the time, people wondering if AnyOption is a scam are thinking that it is too good to be true. Well, it is possible to make money on Anyoption but that does not mean it is simple! You can lose money, but you can make money.
AnyOption Bonus Scam – This is the big one to watch out for. Be wary of accepting any bonuses at AnyOption, or any binary broker for that matter as the bonuses always come with strings attached. The fine print in the terms and conditions for Anyoption scams means that if you accept a bonus then you have to meet requirements prior to making any withdrawals. In addition, the money you win from bonus money trades is not withdrawable either at first.
Our general rule of thumb is play it safe and decline any bonus offers. That being said – if you still want to check out the bonuses at Anyoption you should know they are dealt with on a case by case basis. All bonuses are negotiable and based on the first deposit amount. Please contact Anyoption.com Customer Service to find out about the bonuses you qualify for.
You should feel comfortable about making a deposit and trading at AnyOption.
Types of Binary Options Options At AnyOption.com
Types of Options: High/Low, Option+, One Touch*
Expiry Times Available: Hourly
High/Low Payout Percentage: 65-71%
Even if your option expires out of the money you will get a 15% refund
*One Touch Binary Option Trades are only taking place on weekends after trading hours on Friday – Sunday evening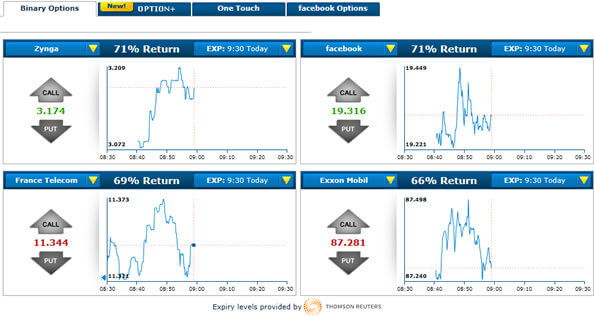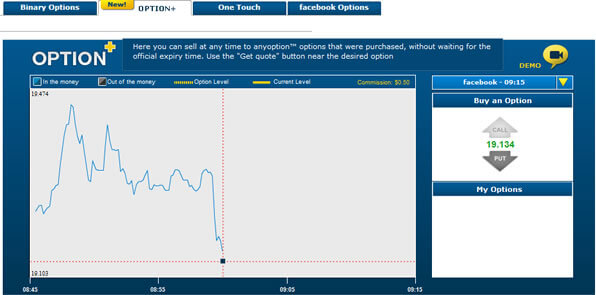 Assets Available to Trade
Stocks
Air China Limited
Akbank  Turk
Allianz
America Movil
ANZ Bank
Apple
Turkecell
Turkecell NYSE
Unicredit
Vodafone
Walt Disney
Baidu
Banco Santander
Barclays
BBVA
BHP Billiton
British Petroleum
Check Point
CMB
CPIC Group
Daimler AG
Deutsche Bank
E.ON
EDF
Exxon Mobil
France Telecom
Gazprom
Generali
Goldman Sachs
Industrial Bank
Intel
Intesa Sanpaolo
ISBANK
JPMorgan Chase
Las Vegas Sands
McDonalds
Microsoft
Mitsubishi
Morgan Stanley
Noble Energy
PetroChina
Ping An Insurance
Renault
ROSNEFT
SBERBANK
SINA Corporation
Societe Generale
Tata Motors
Telecom Italia
Telefonica
Tesco
Teva
Toyota Motor