BOL Financial, binary options trading on a gaming website.
Established: 2004

Website: www.betonline.ag
Country: N/A 

Regulation: Panama 
5/5
Platform

5/5
Customer Support

5/5
Account Management

4/5
Leverage & Bonuses

3/5
Reliability / Security

5/5
BOL Financial is an extension of BetOnline, a leading online gaming site, which deals in binary options trading. Although the primary focus of BetOnline is casino and sports betting, it has expanded its product offerings to cover binary options trading due the popularity of it among small time players. With BOL Financial trading platform, they have managed to open up the world of financial trading to gamers from all over the world including those from the U.S. With its user friendly trading platform, BOL Financial is ideally suited to casual traders who want to dabble in financial trading occasionally without having to deal complicated trading terminologies or trading orders.
Company information
Operational since 2004, BetOnline is an online gaming site that offers casino games, sports betting, horse racing wagers and recently binary options trading. The site is ranked one of the top 60 online betting exchanges in 2006 according to Casino City Press.
Until recently, BetOnline has begun to offer binary options trading to its members under BOL Financial. In this respect, BOL Financial differs from other binary options traders in the industry as the binary options trading services offered are just an extension of BetOline's core business. With its head office in Panama City, BOL Financial accepts traders from all over the including those from the U.S.
Trading Platform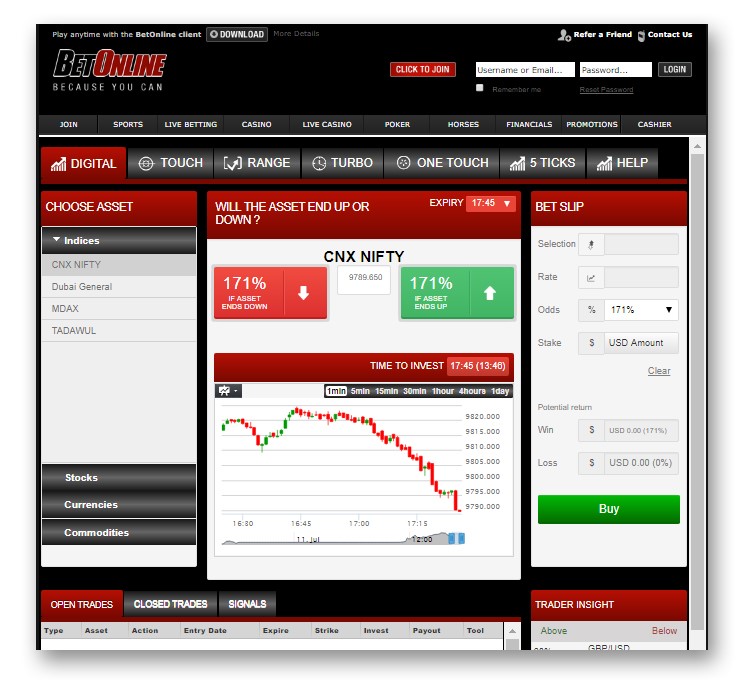 The trading platform provided by BOL Financial is a user-friendly trading platform which can be accessed with any web browser. The entire trading screen is divided in 3 main sections. The left side of the trading screen contains the assets that are available for trading whereas the centre portion of the trading screen is dedicated to the trading chart. On the right side of the trading screen is where all the trade execution functionalities are located. With BOL Financial trading platform, a trader can trade with 6 different types of option contract namely:
Digital options
Touch options
Range Options
One Touch options
Turbo Options
5 Ticks options
The trading platform also comes with a trading history section which traders can refer to check on their open and closed trades. There is also a trader insight indicator which shows the sentiments of traders towards selected underlying assets.
Mobile
Despite the popularity of mobile trading apps among binary options brokers nowadays, BOL Financial does not have any dedicated trading apps for iPhones or smartphone users. But this is hardly surprising as BOL Financial is not a dedicated binary options broker but an extension of BetOnline. Nevertheless, BOL Financial web based trading platform works just as well on mobile devices as desktop computers as the trading screen is scalable.
Assets available
In terms of underlying assets which are available for trading at BOL Financial, there are around a hundred different types of assets to choose from. These assets are derived from different asset classes such as stocks, commodities, currencies and indices. The following table shows the complete list of assets that are currently available on BOF Financial's trading platform:
Stocks: Amazon, Alibaba, Apple, Baidu, Bank of America, Best Buy, Boeing, CISCO, Caterpillar, Citigroup, Coca Cola Co, Disney, Ebay, Eli Lilly, Expedia, Exxon Mobil, Facebook, FedEx, Ferrari, FitBit, General Electric, GoPro, Google, Home Depot, IBM, Intel, JPMorgan, LendingClub, Line Corp, Lockheed Martin, Manchester United, MasterCard, McDonald's, Merck, Microsoft, Morgan Stanley, Netflix, Nike, PayPal, PepsiCo, Pfiser, Qualcomm Inc, SnapChat, StarBucks, T-Mobile, Tesla Motors, Time Warner, Trip Advisor, Twitter, US Steel, Visa.
Currencies: AUD/CAD, AUD/CHF, AUD/JPY, AUD/NZD, AUD/USD, Bitcoin/EUR, CAD/JPY, CHF/JPY, Dash/Bitcoin, Dash/EUR, Dash/Ethereum, Dash/Litecoin, Dash/USD, EUR/AUD, EUR/CAD, EUR/GBP, EUR/JPY, EUR/USD, Ethereum/Bitcoin, Ethereum/EUR, Ethereum/Litecoin, Ethereum/USD, GBP/AUD, GBP/CAD, GBP/CHF, GBP/JPY, GBP/USD, Litecoin/Bitcoin, Litecoin/EUR, Litecoin/USD, NZD/USD, Namecoin/Bitcoin, Namecoin/USD, Novacoin/Bitcoin, Novacoin/USD, Peercoin/Bitcoin, Peercoin/USD, USD/CAD, USD/CHF, USD/JPY, USD/NOK, USD/SEK.
Commodities: Coffee, Copper, Crude, Gold, Platinum, Silver, Sugar
Indices: Nasdaq
Trading Account, Bonuses& VIP programs
As BOL Financial is not a dedicated binary options broker, their trading account setup and bonuses offered are different from what the binary options trading industry has to offer. For example, a trading account at BOL Financial can also be used for betting on other gaming activities offered by BetOnline.
Although there are bonuses and promotional deals offered by BetOnline, these bonuses and promotional deals are not specifically for binary options trading. Instead, they are geared towards casino games and sport betting. Hence, if you are a binary trader that enjoys an occasional bet on casino games or sport betting, you can take advantage of several bonuses such as "Refer a Friend" bonus, 50% Welcome bonus, Risk Free Bets, Free Plays and Match bonuses.
Deposits and withdrawals
To open a live trading account at BOL Financial, you are required to place at least a minimum deposit of $20 (The actual amount depends on the methods used). With this low requirement, trading binary options is well within the reach of most beginner traders. As for the payment methods which are supported by BOL Financial, they include the following:
Bank Wire Transfer
Bitcoin
Cashier Checks
Credit/Debit Cards
Litecoin
Money Orders
Neteller
Skrill
Western Union
Customer support
The customer support service at BOL Financial is available on a 24 hours a day 7 days a week basis. This is reassuring for BOL Financial's traders as they will be able to obtain assistance from the support team whenever they are experiencing any problems. Nevertheless, the methods of communicating with the customer support team are rather limited to just the telephone or email. The lack of live chat support meant BOL Financial's traders are at a disadvantage as compared to traders with dedicated binary options brokers.
Extra features and resources
In terms of extra features or resources, BOL Financial does not have any which are specific to binary traders. However, there is one feature that is found on BOL Financial's website which makes it stand out from all the online platforms that offer binary options trading, that is the exceptionally high payout offered by BOL Financial. While the average returns offered by most binary options brokers ranges from 75% to 95%, BOL Financial's payouts ranges from 160% to 180% on the average. In addition, BOL Financial's traders are also able to adjust their trades based on their risk appetite. This is done through the size of the refunds that BOL Financial's traders want to receive should their trade closes out of the money.
BOL Financial Pros and Cons
Pros
24/7 Customer Support
Ability to adjust trading risk
Exceptionally High Returns
Fast Withdrawals
Low Minimum deposit requirement
User Friendly Trading Platform
Cons
No dedicated Mobile Apps
No educational Resources
No choices of trading accounts
FAQ
Is BOL Financial a suitable platform for beginner binary options trader?
Yes. BOL Financial is a good platform for beginner traders as their trading platform is user friendly and requires no download and installation.
How can I control my trading risks?
BOL Financial's trading platform allow you to control your trading risks by letting you adjust the payout percentage against the rebate that you will get should your trades close out of the money.
What types of options contracts are available at BOL Financial platform?
At BOL Financial, there are 6 different types of option contracts available. They include 5 Ticks options, Digital options, One Touch options, Range Options, Touch options and Turbo Options.
What methods are available for depositing funds at BOL Financial?
There is a wide selection of payment options which BOL Financial's clients can use to deposit funds into their trading accounts. These include Bank Wire Transfer, Bitcoin, Cashier Checks, Credit/Debit Cards, Litecoin, Money Orders, Neteller, Skrill and Western Union.
No. BOL Financial is not a scam. They are an extension of the BetOnline's website which has been operational since 2004.
How do I open a trading account at BOL Financial?
To open a trading account at BOL Financial, simply click on the "To Join" button located on the BetOnline homepage. Fill up the registration form and submit it. This will allow you to gain access to the website. Once your registration has been confirmed by through the confirmation email, your account will then be activated. Once you have deposited some funds into your account, you will be able to start trading on the BOL Financial trading platform.