BINROBOT LADY SUMMARY
The software has been shown to offer users plenty of choice and is based on sound technical principles. The user can also adjust the risk profile of the software. For these reasons, the software is scored 90/100. When it comes to customer support, the software team can do a lot better by providing additional means for customer support, especially for prospects. This is why a score of 65/100 has been assigned here. When it comes to choice of options, the Binrobot-Lady app keeps it simple. A score of 85/100 is given for the simplicity of operation of the software in trading just two trade types.
Intro
We introduce you to Abi, the Binrobot-Lady. Abi the Binrobot-Lady is an automated binary options trading software which places trades on the accounts of traders who have signed up for the service and deposited funds with the preferred brokers. The concept of the Binrobot-Lady is to provide an avenue for traders without experience or without the time to trade for themselves to be able to fully profit from the market.
Company Information
Abi the Binrobot-Lady app comes to us out of Russia. There is not much information about the company behind this robot. However, we can say that the Binrobot-Lady software was actually designed using 3 risk settings as well as 6 indicators. The indicators are a mixture of trend and momentum indicators.
Assets available
The Binrobot-Lady is programmed to trade more than 100 assets distributed across 4 different asset classes. The tradable assets listed below are some of the assets that are traded by Binrobot-Lady on one of the broker platforms that it works on.
Forex:

AUD/CAD, AUD/CHF, AUD/JPY, AUD/NZD, AUD/USD, CAD/JPY, EUR/AUD, EUR/CAD, EUR/CHF, EUR/GBP, EUR/JPY, EUR/NZD, EUR/USD, GBP/CAD, GBP/CHF, GBP/JPY, GBP/RUB, GBP/USD, NZD/USD, USD/CAD, USD/CHF, USD/JPY, USD/NOK, USD/SEK, USD/RUB, USD/SGD, USD/TRY, USD/ZAR.

Stocks:

Cisco, Caterpillar, AIG, Adidas, Airbus, 3M, Alibaba, Axis Bank, AXA, Apple, Baidu, Banco Santander, Coca Cola, CitiGroup, BHP, Bayer, BNP Paribas, Google.

Indices:

FTSE100, Dow30, Nasdaq10, Hang Seng, SSE180, IBEX35, MICEX10, RTS, etc.
Bonuses & VIP programs
The Binrobot-Lady is not a brokerage platform and therefore there are no bonuses that come with its usage. However, a few of the brokers whose platforms are compatible with the Binrobot-Lady software offer their traders some trading bonuses. Bonuses which are available on Binrobot-Lady compliant platforms include a deposit bonus. The deposit bonus is usually awarded as a percentage of the funds that are used as first time live account deposits. Bonuses usually come with trade volume requirements. However, since trading is in the hands of the Binrobot-Lady, this robot will handle the business. However, the following points should be noted:
Not all traders qualify to use bonuses. Bonuses come with volume requirements. So if possible, bonuses should be restricted to no more than 25% of account capital.
Bonuses cannot be withdrawn as cash; they must be used strictly for trading.
Trading Platform
The Binrobot-Lady app is built to work with some of the best binary options web-based platforms in the industry. The platforms of the brokers that Binrobot-Lasy works with are mostly of the SpotOption variety.
The robot also comes with an interface, which enables the trader to pick out a number of functions that the Binrobot-Lady app can perform.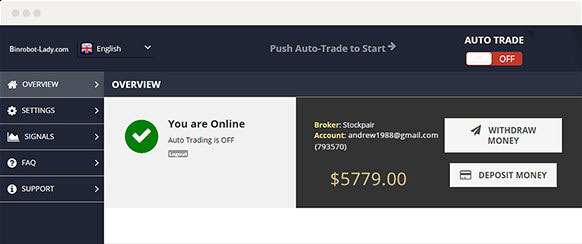 It is possible to perform the following functions on the Binrobot-Lady interface:
Deposit or withdraw funds
Switch on/off the Autotrade mode, thus allowing automated trading or switching to manual trading.
Identify the signals issued by the Binrobot-Lady and executing them manually using the "Signals" tab.
Adjusting the risk management settings of the robot. The available settings are the Classical settings, Martingale and Fibonacci settings.
Mobile
Binrobot-Lady is not available as a mobile app, but can be used on the mobile platforms of the compatible brokers. The same functionality available on the web-based versions of the platforms accessible on a desktop comes with the mobile versions. The company presents mobile trading apps for traders to trade binary options with. The mobile apps can be downloaded from the Google Play store and are compatible with Android smartphones and tablet devices.
Deposits and Withdrawals
For Binrobot-Lady to start trading on an account, such an account must be funded with at least $250. The recommendation is for at least $1,000 to be deposited so that the minimum trade placed by Binrobot-Lady will conform with acceptable risk management standards.
There are several ways by which accounts can be funded. These methods are stated below:
Credit card/debit card: Various brands of cards can be used, the commonest being the VISA and MasterCard brands. Card deposits and withdrawals are not universally available to all countries.
The bank wire transfer method is very popular as it is available to all users from all countries. The only snag with this method is that it is slow.
E-wallet options: Several e-wallets are available. Examples are Skrill, Moneta, Yandex Money, Neteller, Perfect Money, OKPay, WebMoney, etc.
A few brokers are now accepting Bitcoin as a deposit/withdrawal method.
The transaction processing times of Binrobot-Lady is comparable to what is generally obtainable in the industry.
Customer support
Customer support is only available via the online contact form as well as by email (subscribers only). Despite being available in 5 languages, there is a need to expand the customer support channels available for users and prospects alike to be able to reach the Binrobot-Lady team.
Extra features and resources
Traders can use a variety of extra features and resources to enhance their trading experience on Binrobot-Lady.
Choose from three risk settings: Classical (safest), Martingale (most risky) and Fibonacci (most accurate).
There is an affiliate program to enable users make extra money by referring their friends.
Verdict
While the Binrobot-Lady is quite good in allowing users determine how the robot works, there is need to improve on the customer support. Be that as it may, Binrobot-Lady is a profitable software that offers a reward-risk ratio that can deliver profits at the end of the trading cycle. It takes 2 out of 3 trades to remain profitable in binary options, and Binrobot-Lady does just that.
Pros
Binrobot-Lady has identifiable strategies with which it trades on accounts. These strategies are taken from a mix of trend and momentum indicators.
Bibrobot-Lady is programmed to work only on the platforms of CySEC-regulated brokers.
Binrobot-Lady is free to use.
The robot allows two options to its use. It can be used for full autotrading, or it can be set to simply generate signals that the trader will implement.
Cons
Binrobot-Lady cannot work except the computer is powered on and connected to the internet. It cannot be used on a VPS.
Customer support is not very robust and needs improvement.
FAQ
Here are some of the frequently asked questions that traders and prospective users may have about the operations of the Binrobot-Lady robot.
 Can traders from the US make use of Binrobot-Lady.com?
Yes, but only on the platforms of the preferred brokers.
How do I check the results of trades done on my behalf by Binrobot-Lady.com?
Transactions can be seen from the "History of transactions" tab in your broker's account, right inside the robot's interface.
Is binary options robot legal?
Yes, Binrobot-lady.com is a legitimate program which works only on CySEC-regulated platforms.
How much does Binrobot-lady.com cost?
Binrobot-lady.com is free to use, but requires a minimum deposit with the broker for it to work.
 On which browser does Binrobot-Lady work best?
The robot works on all browsers that are used on Windows, MAC OS, Linux, Android OS and iOS platforms.
 Does Binrobot-lady.com work on mobile devices such as tablets and smartphones?
Yes
What is the minimum deposit to start using Binrobot-Lady?
$250 USD