Let's check out all of the features of Boss Capital in our in-depth review
For binary options traders looking for a reliable broker which offers minimal fees, a variety of trade types, and flexible features and benefits for large and small account sizes, Boss Capital is a website worth considering.
Boss Capital Company Information
Boss Capital has been in operation since 2014.  While there are some brokers which have been around for longer, Boss Capital has managed to build up quite a stellar reputation within just a few short years.  The company which owns and operates the site is Melnic Group Ltd., located in Bulgaria.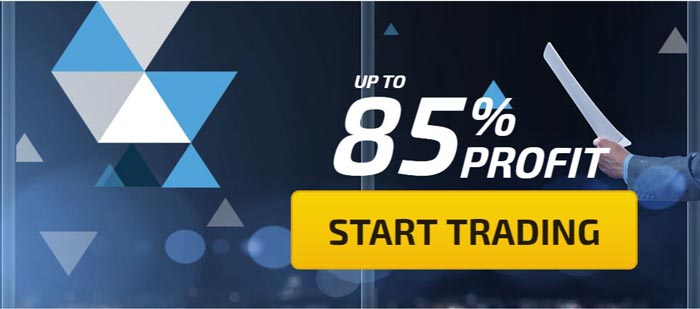 What Makes Trading at Boss Capital Different
A lot of competing websites which offer binary options trading set high fees for withdrawals, or only offer High/Low trades.  Boss Capital has a far friendlier fee structure, and gives you the chance to profit through multiple trades types.  This site also provides you with plenty of extra resources and tools to get the most out of your trading.
Assets Available
Indices: DOW Future, FTSE 100, Straits Times, KL Future, ASX, SSE180, Bombay SE, KUWAIT, QATAR, EGX 30, TADWUL, MSM 30, DAX, NASDAQ Future, S&P Future, Hang Seng, DUBAI, MICEX 10, ISE 30, NASDAQ, S&P 500, DOW.
Stocks: Deutsche Telcom, Facebook, Total, Paris Telecom, Tesco, BNP Paribas, Unilever, General Motors, Las Vegas Sands, Disney, JP Morgan Chase, Groupon, Exxon Mobil, Goldman Sachs, Caterpillar, McDonald's, Fiat, Petrobras, Netflix, Mastercard, Baidu, Dell, IBM, AIG, LinkedIn, Barclays, Amazon, Straits Times, Turkcell, Tata Motors, Reuters, BAE Systems, Rolls Royce, HSBC Holdings, Coca Cola, Sberbank, Lukoil, Google, BP, Gazprom, Nike, Apple, CITI.
Pairs: RIO T. vs. BHP B., FTSE F vs. CAC F, Gold vs. Oil, BMW vs. Daimler, BMW vs. Renault, Vodafone vs. Orange, Amazon vs. Ebay, Google vs. Baidu, Facebook vs. Twitter, LinkedIn vs. Twitter, McDonald's vs. Starbucks, Amazon vs. Netflix, SSE 180 VS SHENZHEN 300, RIO-AU VS BHP-AU, Gold vs. EUR.
Currencies: AUD/CHF, USD/SEK, NZD/JPY, EUR/SEK, BTC/USD, AUD/NZD, NZD/USD, GBP/CHF, CAD/JPY, AUD/JPY, GBP/JPY, USD/ZAR, USD/SGD, AUD/USD, USD/CHF, USD/RUB, USD/BRL, USD/TRY, EUR/GBP, EUR/JPY, USD/CAD, USD/JPY, GBP/USD, EUR/USD.
Commodities: Gold, Coffee, Corn, Oil, Silver, Platinum, Wheat, Sugar.
Does Boss Capital Offer Bonuses?
Boss Capital does offer match bonuses on deposits, but you also have the option of accepting trading insurance to cover losses up to a certain percentage of your deposited amount.  This flexibility is excellent; many other sites only offer match bonuses!  Read the next section to find out about bonus amounts.
Boss Capital Trading Accounts
If you are going to open an account on Boss Capital, you can open any of the following account types:
Beginner: Deposit $200-$5,000, no bonus ($200 is the minimum deposit).
Semi Educational: Deposit $5,000-$25,000, receive a 50% match bonus or 25% trading insurance.
Full Educational: Deposit $25,000-$50,000, receive a 75% match bonus or 50% trading insurance.
Semi Advanced: Deposit $50,000-$100,000, receive a 100% match bonus or 75% trading insurance.
Full Advanced: Deposit $100,000+, receive a 100% match bonus or 100% trading insurance.
Keep in mind you cannot claim both the match bonus and trading insurance, as the total amount of the bonus you receive cannot exceed 100% of the amount you are depositing.
Boss Capital also offers demo accounts.  Unfortunately, these are severely restricted.  If you are depositing $2,000, you only get 3 days to practice.  You can get a week if you deposit $5,000, 30 days if you deposit $10,000, or unlimited demo testing if you deposit $25,000 or more.  I strongly recommend you find a way to demo test somewhere else before you risk your own money.
"Each of these account tiers comes with a range of benefits.  Even with a beginner account, the benefits are pretty nice; you get free 24/7 support, an eBook, educational videos, market reviews sent out weekly to your inbox, and starter webinars.  You also get an account manager for 1 month."
At the next level up, you can add on strategy webinars, 2 academy sessions, 3 months with the account manager, and daily market reviews.  A tier above that, you get the account manager for 6 months, and you can take advantage of 5 academy sessions.  At the Semi Advanced tier, the account manager is there to help you for a whole year, and you receive 10 academy sessions.  At the highest tier, you get a lifetime account manager as well as unlimited academy sessions.
Mobile Trading on Boss Capital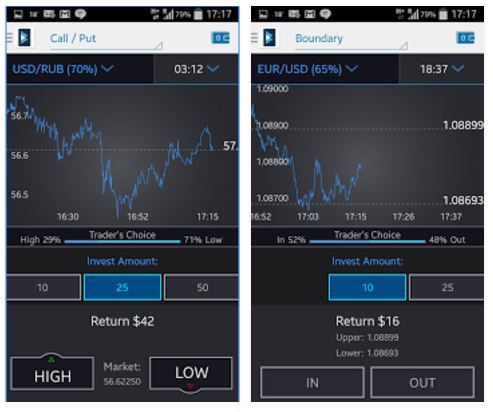 There is an app available right now for trading on Boss Capital on Android devices.  As of yet, I see no app for iOS devices, but I have read that one is on its way soon.
Boss Capital Deposits and Withdrawals
You can deposit on Boss Capital using a credit or debit card or wire transfer.  The following currencies are available: USD EUR, GBP, AUD and CAD.  The minimum deposit via credit card is $200, while it is $500 with a wire transfer.  The same methods can be used to withdraw after you provide verification of your identity.
Boss Capital charges $30 processing fees for wire transfer withdrawals—this is the standard industry-wide.  For credit card however, there are no fees.  Considering the hefty withdrawal fees charged by many competitors, this is nothing short of excellent.  The company blatantly states in the FAQ, "There are absolutely no hidden fees or extra charges."
There are minimum and maximum withdrawal thresholds.  The minimum is $100 for wire transfer, but only $10 for credit card.  This is again awesome, since many sites set a $100 minimum for all withdrawals.  The maximum is set at $2,000 per week.  While that might be a tad restrictive for some traders with larger accounts, my guess would be that if that is you, customer service would be willing to work with you.  For most traders, it should not be an issue.
Boss Capital Trading Platform
Last I checked, Boss Capital was powered by Tradesmarter.  When you load the platform, you will discover it is very easy to use, and that you can see at a glance where everything is.  On the left, you can pick an asset as well as a trade type: Call/Put, One Touch, Boundary or Short Term.  On the right, you can view your graph and place your order.  Open trades and trade history are displayed below that.
Here is what I like about the trading platform:
On the trading ticket, a simple question is posed.  For example, if I click on a EUR/USD Call/Put option, the platform asks me, "Will the EUR/USD at 11:15 close Higher or Lower than the current price?"  This language makes trading easy to understand even for complete beginners.
A nice variety of trade types are available, including Boundary, one of my very favorite types of binary options trades.  Boundary trading is unique, since it gives you the chance to make money even when the market is sitting flat and doing nothing.
All in all, I think the Boss Capital platform and trading features are great.  You will find few other binary platforms which are this user-friendly and well-designed.
Customer Support on Boss Capital
I actually have had several experiences dealing with Boss Capital's support team over the years.  The most recent one wasn't so great—the live chat feature on the website is (as of the time of this review) broken.  I think though this will probably be remedied quickly, because in the past, my experiences with the team were great.  The wait time before an agent staffs the desk is usually very brief, and the agents themselves are friendly and helpful.
Trading Features and Resources on Boss Capital
The minimum trade size is $10 USD while the maximum trade size is $7,500 USD.  This is a huge range, suitable for traders with very large and very small accounts.
There are many educational resources offered through Boss Capital, especially at the upper account tiers.
Advanced charting is offered with indicators, trend lines, and other tools to help you understand what is going on in the markets so you can plan your trades.
You can use "Sell Your Options" to exit trades early.
Verdict
Boss Capital was designed with the novice trader in mind.  The simplicity of the trading platform coupled with an abundance of resources makes this a great site for beginners.  Nonetheless, the high maximum trade ceiling and the functionality of the platform make it an excellent broker for advanced traders as well.
Pros:
The investment size range is non-restrictive and therefore suitable no matter how large or small your account might be.
The customer service team is fast, friendly and helpful.
There are very few fees, even for withdrawals, and the minimum withdrawal threshold is low.
The trading platform is amazingly user-friendly.
You get to choose the type of bonus you prefer.
Multiple types of trades are offered.
Ample educational resources are offered.
Early trade is available.
Cons:
The demo accounts are too restrictive to actually be useful for most traders.
A lot of the extra benefits and features only are available if you have a significant sum of money to deposit.  Those opening basic accounts with the minimum deposit will not be able to take full advantage of all these extras.
FAQ
No.  Even though this broker is unregulated, they are well-established, have excellent reviews, and offer friendly terms of service.  Whereas a lot of competing sites are out to get your money through excessive fees, Boss Capital has made it possible to withdraw your money anytime with no fees via credit or debit card.
How can I get started trading on Boss Capital?
In the upper right-hand corner of the homepage, look for the yellow button which says "Open Account."  Click on it.  This will take you to a page where you can fill out your basic personal information on the left and your account information on the right.  Choose your account currency and set your password, and then click, "Open Account."  You can then make your first deposit and start trading.
Who should consider trading on Boss Capital?
Anyone!  I think this site is ideal for total beginners because it is so easy to use, but intermediate and advanced traders will appreciate the streamlined platform and the extra features and benefits too.  And being able to say goodbye to withdrawal fees is awesome all around!