Grand Option Binary Option Broker Review
If you have spent much time on our site at all, you know we are big fans of 24option. The guys who operate 24option run several other binary options websites as well, the newest of which is Grand Option. We were very excited when we found out, so of course we headed over there right away to open an account and check it out. Sadly Grand Option does not accept traders from the USA (you will not even find the country in the dropdown list), but they do take investors from around the world. Let's take a look at what they have to offer.
The most unique feature is the low minimum deposit of only $100 USD. This is the smallest amount you can deposit and trade 60 second options anywhere online. The other brokers have minimum deposits of at least $200 and up. If you want to start out small and build up, GrandOption is a great choice for you.

Getting Started at GrandOption
Step 1: Account Creation
Create Free Account
You can get started on Grand Option in a matter of minutes. Simply choose the "Open Account" button, fill in your details, and proceed. You will be taken to the deposit screen, where you can use a credit or debit card, wire transfer, or an online payment system to make your initial deposit.
Step 2: Funding Your Account
The minimum deposit is just $100, which is awesome if you are a trader with a small bankroll looking to get started on a shoestring budget. Just keep in mind that withdrawals also require a minimum of $100, so you may want to deposit a little more so it will be easier for you to cash out when you are ready (that or plan on winning!). Also be informed that there is a small percentage fee for all of your withdrawals past the first of every month, unless you have a VIP account.
While you are making a deposit, you will also need to choose what type of account you want to open. This of course is based on the size of your deposit. At the lower end we have the Grand Option Standard Account. This account comes with free 24/7 customer support, including advice form a market expert. The video database of training materials is available to you for free. The next level up is the Grand Option Superior Account. This account includes an assigned market expert as well as a personal online trading session with a market analyst. You will receive an extra 2.0% return on your options.
"The highest account tier is the Grand Option VIP account. With this account you can make as many free withdrawals as you wish, and you get all of the benefits that come with the other accounts plus an additional 4.0% return on your trades"
When you choose an account, you may be offered a free bonus; think carefully before you accept a bonus, and make sure you understand all volume turnover requirements. Unfortunately, Grand Option does not offer a demo account. If you have practiced trading somewhere else already though, you will be ready to start trading live!
Trade Binary Options At Grand Options TechFinancials Platform
Types of Trades Offered by Grand Option:
High/Low
One Touch
Boundary/Range
60 Seconds
End of Day
End of Week
End of Month
Weekend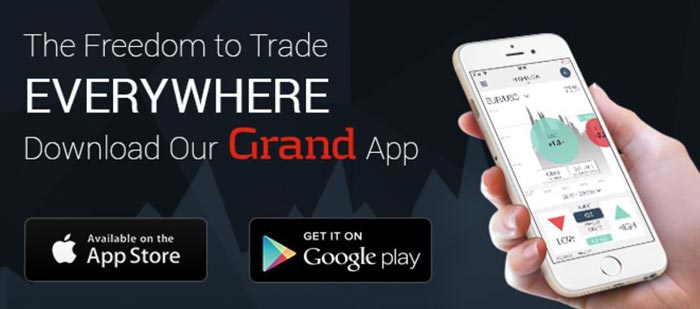 This is a simple type of binary options trade where you pick a direction and wait for the profits to roll in. You simply have to say whether you think an asset will be going up or down within a given timeframe. If you are right, you win the payout! If you are wrong, you lose your trade. Trading doesn't get simpler than this!
One Touch
With this type of trade, you say that a certain asset will reach a given price by a given expiry time. If you are right, you win. If you are wrong, you lose. This is yet another very simple type of trade.
Boundary/Range
Wouldn't it be awesome if you could make money when the market is doing absolutely nothing? You can with Boundary trades, also called Range trades. Simply invest when you believe price will range in a certain channel. If you are correct, and price does not break out, you win!
Other Types of Trades on Grand Option
The rest of the trade types on this site are all time-based. 60-second trades are just like High/Low trades, but they expire in 60 seconds. End of day trades expire at the end of the day, end of week trades expire at the end of the week, and end of month trades expire at the end of month. So whether short- or long-term trading strikes your fancy, you will find opportunities at Grand Option. Weekend trading gives you a chance to make money when traders on other sites have to sit on their hands!
Trading Features Available
Early close. Need to get out of your trade early? You can with this handy trade feature.
No double up or rollover. These features arguably are not as important as early close though.
Trading Assets
Currencies: AUD/USD, USD/JPYE, UR/USD, EUR/JPY, GBP/JPY, USD/CAD, NZD/USD, EUR/GBP, USD/CHF, CAD/JPY, AUD/JPY, GBP/CHF, NZD/CHF, CHF/JPY, GBP/AUD, EUR/CAD, GBP/CAD, AUD/CHF, CAD/CHF, EUR/AUD, USD/TRY, EUR/TRY, USD/ZAR, EUR/ZAR.
Stocks: Sony, ICICI Bank, Sumitomo, Tata Motors Ltd, Tesco, Gazprom, British Petroleum (BP), Barclays, Fiat, Vodafone, AXA, BNP Paribas, France Télécom, Société Générale, Google, Apple, Nike, CitiGroup, Coca Cola, JPMorgan Chase, Microsoft, Amazon, IBM, McDonalds, Disney, Amex, Exxon, Facebook, Baidu.
Indices: ASX200 Future, Nikkei225 Future, Hang Seng Future, Bombay 30, Nifty Future, Tadawul, CAC Future, FTSE100 Future, IBEX35 Index, SMI Index, DAX30 Future, MIB40 Future, S&P500 Index Future, NASDAQ100 Future, DOW JONES Future (Industrial Moving Average), South Africa 40 Future.
Commodities: Gold, Gold/EUR, Gold/JPY, Gold-Silver, Silver, Western Texas Intermediate (WTI) Crude Oil, Coffee, Corn
Is Grand Option a good broker? Legit?
Yes, all in all GrandOption is a good broker. They are legit and backed by a company we have worked with for years so we are comfortable trusting them. That it not to say they are perfect, Grand Option does have some drawbacks. Their site is a little tricky to navigate at first, but they provide plenty of information, including an abundance of training materials for all their traders, including an interactive eBook, trading articles, and video tutorials. This shows good faith.

Additionally, Grand Option is a regulated broker, with CySEC license 207/13. They have a profusion of excellent features including numerous different types of trades and expiry times, early close, and a wide range for investment amounts