TradeRush Review
TradeRush have ceased all operations. Please visit our recommended trading brokers list.
______________
TradeRush.com's claim to fame is there 60 second binary options. They were the pioneers in this type of trading. They did this in 2010, just at the beginning of the 'binary options rush' that is currently underway.   We have worked closely with TradeRush since 2011 and they have been consistent in offering traders a fair playing field, generous bonuses and timely cash outs. Thousands of traders trade there every day and we trust that they are an honest and legitimate binary options broker. They no longer accept US binary traders and are a major player in the binary option industry.
TradeRush – Quick Details About Trade Rush
Last edited June 01, 2017 – Avoid TradeRush they are a scam.
[scg_html_rbox_marketsworld]
Let's start out by showing you the Trade Rush home page.
Trade Rush Home Page
As you can see, the home page is clean looking and well organized. It is designed for new traders to quickly be able to create their account and start trading. Let's take a look at the account creation process.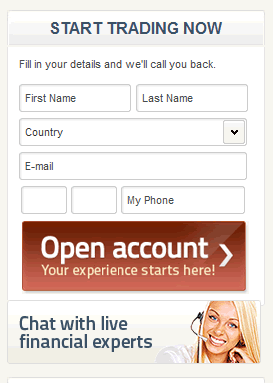 Create Your Trading Account
During your account creation you will only need to enter the basic information to initially get set up. They ask for your first and last name, the country of your residence, email and phone number. Use your real information to create your account. We do recommend creating a new email account that you use only for your binary trading accounts. You will want to keep the account handy so you can keep up to date with any specific information about your account(s). Enter name, country (USA Traders Accepted) and a valid email and phone number. Once you have your account set up, you are ready to make your first trade.
After you create your account you will be promoted to a screen where you can make your first deposit. The minimum is $200. This is one of the lower initial deposit amounts offered by any of the brokers we list. Low investments both in initial deposit and in individual trade amounts.
Trading Binary Options – Platform and Trade Interface
TradeRush uses the SpotOption trading platform. This is the same platform used by Banc De Binary and many other brokers. The platform is extremely mobile friendly and you can easily trade from your smart phone from where ever you have access to the net.
Types of Binary Options available at TradeRush.com
Up / Down
One Touch (although not often are these available)
60 Second Options
Option Pro (a more chart centric interface where you can quickly choose between multiple assets and make the trade
Option Builder – create your own binary options, tailored to your risk and return levels
Expiry times as early as 60 seconds and then 30 minutes.
Trade Rush Option Pro Interface
The new trading interface is extremely user friendly. You can easily select between different assets and expiry times.
Assets / Underlying Instruments To Trade
They offer a wide selection of stocks, commodities, currency pairs and indices. They use SpotOption which is one of the, if not the leading, trading platform on the market. This gives them access to a wide range of option choices.
Here is an example of the commodities available to trade right now:
How Does TradeRush's Returns Compare?
They are competitive. Even though in the screen shot above you see "only" a 70% return, what you do not see, until you select a direction and enter an amount, is a 'protected amount'. This protected amount is how much you are going to get if you lose. In these examples, the protected amount is 10% of your trade.
Using the 10% return if you lose and 70% return if you win is a great way to spread your risk out over. Just because a different broker may offer a higher winning return, they may offer no return for losses.
TradeRush Investing Information – Minimums & Maximums
TradeRush is made friendly for new traders but also caters to the larger experienced binary option traders who want to maximize their return on larger investments.
Minimum Deposit: $200 USD (or 200 of your own currency, USD is certainly the minimum valued currency)
Maximum Deposit: $10k via Credit Card, $5k via MoneyBookers. Unlimited via Wire
Bonuses: Personalized bonuses of up to 100% Deposit Match. Ask customer support for best bonus amount
Minimum Trade: $5 on 60 second options. $10 on everything else
Minimum Withdrawal: $200 USD. 1 free withdrawal per month. $30 charge for additional withdrawals in the same calendar month
Reputation – Is TradeRush.com Legit
Yes, we are comfortable saying that they are a legit binary broker. We are comfortable trading there. The one major traderush complaint we hear is when someone accepts a deposit bonus without really reading the fine print on the terms and conditions. That is where the cries of 'TradeRush scam' come about.
Free Guide To Trading at TradeRush
Final Thoughts About TradeRush
If you are new to binary trading then TradeRush is where you should open your 1st account. The software is smooth and easy to use. The investment amounts are smaller here than any of the other legit brokers. You can trade for as little as $5 per trade. No commission charges. Straight up five bucks. The gambler in me likes this option. The regular binary trades have a minimum of $10 per trade which is still lower than sites like 24option which have a minimum investment of $24 per trade. Yes, that's cute isn't it, 24options smallest trade is $24 dollars. You can learn all about what we think about 24, in our 24option review and trading walk through.
We like trading at TradeRush.com.
If you are ready to trade binaries for the first time then get out your credit card and make a deposit at TradeRush. You can start trading within minutes and with a little luck, that $200 will become $400 before you know it.
Most visited Forex reviews in 2021