How To Trade A Binary Option Online
This page explains in detail the steps to trade a binary option online. After reading this guide you will know everything you must do in order to complete a binary option trade from start to finish. If you are not sure what binary options are you can learn the basics before reading this how to guide. You will also be armed with additional information that you can optionally use to improve your chances of success.
Remember, binary options trading is simple but not easy.
Recommended Binary Brokers
Getting Started – Create A Trading Account
The very first thing you are going to need to do is to create a trading account at a broker of your choice. There are plenty of guides on how to choose a binary options broker and what to look for in a binary options broker, so we will not go through all of that again. However, what we will say is that regardless of which broker you choose, you need to get your account created and funded so you can make a trade.
For this example, we will create our account at 24Option.com. We like 24option.com because of the variety of trades available including the 60 second binary options which are a ton of fun.

Visit 24option.com home page and click on the 'Open Account' Button.
Next you simply enter your details using real information. You are going to want to get paid timely and quickly once it is time to withdraw, so be sure you provide real information at this part of the process.

Fill out your info
Now you need to make a deposit. You are not buying anything at this point, just funding your trading account so you can place trades as you wish.

Easy deposits with major credit cards
You can deposit as little as $250 to begin trading with at 24option. The smallest trade is only $24 so you are not risking any great sum if you choose to trade the smaller amounts first. This is also recommended as you should not try and get greedy and you should take your time and plan your trades.
The funding of your account is easy. The brokers will work with you to get your deposits handled. Now that you have successfully funded your account, you are ready to make some trades!
Choosing a Binary Option To Trade
First – choose what kind of binary option to trade. The most common type of binary option trade is the up / down binary option trade. This is when you choose whether the price will finish up or down from it's current price. At 24option there are also other types of binary options available to trade including the touch, no touch, boundary options and range options. They all work a little bit differently, however it is wise to stick with the up/down options while we are still getting our feet wet.

For this example, we are going to focus on the most common and simplest type of binary option trade available, and that is the up or down.
Second – choose your asset – Now you get to pick which underlying asset we are going to trade. Technically you are not trading the asset. With binary options, youu are just betting on the movement of it's price. You use the assets price as something to bet on without actually purchasing shares of the asset. You can choose to trade all kinds of assets. From commodities like wheat, gold, silver and oil, to stock prices like google, apple and the major indices. You can also trade currency pairs (think simplified forex for currency traders). Our quick advice is to trade the assets you are most comfortable with.

For this example we are choosing to trade a forex currency pair. The GBP / USD currency pair. I like trading forex pairs at 24option because they offer some of the higher returns on the market for these types of trades. We will be using a traditional up/down binary option.
Third – Choose when the option expires. The final piece of your binary option setup is to choose your expiration (expiry) time. This is the point in time when the trade is decided a winner or loser. At this point, you are either in the money or out of the money. Expiration times vary from as fast as 60 seconds to hourly and daily. Some option contracts are even longer, however we will mostly be dealing with the shorter time frame binary options.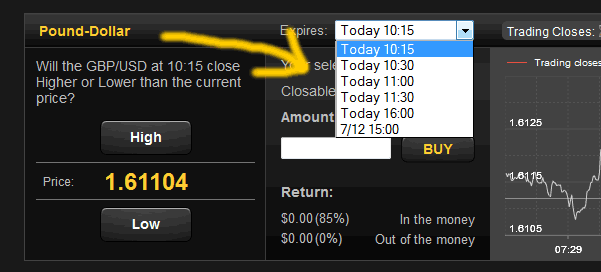 In this example, we are going to find an expiry time for 15 minutes away.
Fourth – Decide your investment and risk You much money are you willing to risk on your binary option trade? Decide the portion of your capital to invest. This is one of the beautiful things about binary options, you can trade with a small bankroll. You do not need tens of thousands of dollars to trade commodities like oil and gold, or take a position in Google, Apple or even Facebok. Your risk is fixed. You also do not have to worry about leveraged losses like forex. You can only lose the amount you choose to risk in this step, no more. You will also see your exact payout if your binary trade finishes in the money.

I put in $100. The returns are also listed. If I win this option, I make 85% returns. So just choose how much money you are going to risk on each trade. At 24 Option, the minimum is $24, however we are going to put in $100 in this trade in order to make a payout of $185.
At this point you have set up your trade. Now comes to the execution of the trade. This really just entails the hitting of the 'Buy' button, however you want to get in at the price you want.
Choosing Up Or Down & Executing the Binary Options Trade
Now comes the fun part. Picking up or down and entering the trade at the price you want.

This is where the magic happens. This is where the binary trade actually takes place. Up until this point, you can walk away from the trade with nothing risked. Once you push this button, you are in the trade. You have made the bet.
Based on your decision you can pick High or Low and hit the BUY button. Once you click the buy button, you are in the game! You have officially traded a binary option.
You do not have to do anything additional at this point other than wait for expiry.

Your Binary Option Trade Is Live – What Now? However, another awesome thing about binary options trading is that most brokers offer an early expiration option where you can close out your trade up until the final few minutes. You do have the option at 24option to close the trade out early. You can do this to lock in a profit or minimize the loss. This is a great way to manage your money and make sure your trades lock up some profit if the trade goes your way. However, at this point, you just need to hang on for the ride! Hope and pray that the price moves in the direction that you were hoping and you win.

As a matter of fact, I closed my trade early locking in a nice profit well before my expiry!
You Can Trade A Binary Option Online Today
If the markets are open, you can trade a binary option online right now, even on the weekend. The beautiful thing about binary options is that they are designed to be simple. One of the major problems most traders have with forex is that it is so complicated and risky that without a forex trading robot or scalping system it was virtually impossible for the average investor looking to profit from price moves in markets to make a buck.
After reading this entire page, you know what you have to do to trade binary options. This is the bare minimum. You could do what is on this page and start making money right away. However, to be really good at it and to make consistent money you must develop a binary option trading strategy that wins more than 50% of your trades! Remember that there is significant risk involved and the the broker does have the edge.
If you are ready to take a shot, get signed up at a legit broker you feel comfortable with. The popularity of binary option trading has just began to take off in popularity and you are in on the ground floor. Get in on the gold rush while the gold is still there. You know how to do it!
Good luck with your trades!
Please 'like and share this tutorial! Thank you!
Additional Resources