Finpari Review

Finpari have ceased all operations. Check out our recommended forex brokers here.
Established: 2014

Website: www.finpari.com
Country: Seychelles 

Regulation: Not regulated 
3/5
Platform

3/5
Customer Support

3/5
Account Management

3/5
Leverage & Bonuses

3/5
Reliability / Security

3/5
If you are looking for a binary options broker with a beautifully designed website and some truly unique features, you will be intrigued by Finpari. This broker is owned by a company based in Scotland, and is open to traders internationally and the USA. You may notice the site says "regulated" on a seal near the bottom. This is not an official seal, and the site has no financial regulatory status. It is simply operates according to local laws.
What makes Finapri exciting? Cool features include a sleek web design, a demo account, fully managed accounts, risk-free trades, and top-notch customer service.
Quick Details About Finpari
Official Website: https://www.finpari.com
Unregulated
Account currencies: USD, GBP, EUR, RUB
Low minimum deposit: $250
Minimum trade size: $10
Maximum trade size: $1,500
Average payout: 81%
Out-of-money refund: 0-10%
Platform: SpotOption
USA traders NOT allowed *No US traders since Dec 1st, 2016
Demo account: Yes
Step 1: Account Creation
To get started trading on Finpari, you'll need to register an account. Registering an account is free and easy. Just look in the upper right-hand corner of the website, and you will see an orange button that says, "Register."
Clicking on that button allows you to fill out a quick form with your personal information. You will select an account currency at this time, choosing from USD, EUR, GBP, or RUB. Note that if you are located in the United States, you will have no difficulty registering on this site. This is because Finpari is not currently regulated by a financial authority.
Step 2: Funding Your Account

It is now time to add funds to your account. Finpari does offer fully functional demo accounts, which is an excellent feature that far too many binary options brokers are lacking completely or limit severely. But you do need to deposit money before you can make use of a demo account.
Account types include:
Bronze: $250 minimum deposit
Silver: $1,000 minimum deposit
Gold: $3,000 minimum deposit
At the lowest tier, Bronze, you will get access to one-hour withdrawals, a 20% match bonus on your first deposit, a trading course including an e-book and video, and a fully functioning demo account. These are pretty great features even at the lowest level. While we are at it, I should mention that one-hour withdrawals are pretty much the fastest I have seen in the industry.
At the Silver level, you get the same great features which are available at the Bronze level, plus a higher bonus of 50% on your first deposit. On top of that, your first three trades are risk-free. You also get access to a web session master class to learn more about trading techniques. At the highest tier, Gold, you get a 100% bonus, trade protection (out-of-money-refund), an individual account manager, and a Swiss prepaid card.
These are a lot of excellent features, and it is really awesome that they are available with a relatively low deposit, even at the highest tier. Once you are logged in, and looking at the trading platform (which by the way is SpotOption), gaze at the left-hand side of the screen for links to market news, expert commentary, trade pattern ideas, and fundamental and technical analysis from the broker's expert traders.
Withdrawal Policy
One of the few drawbacks of Finpari is the withdrawal policy. While you can theoretically withdraw money quickly from your account, whether you can withdraw it at all depends on your turnover. This is not unusual in situations where you claim a bonus, but this is the only broker I have encountered which requires you to meet a turnover requirement even if you did not accept a bonus at all. Thankfully the turnover requirement is quite low—simply the amount that you deposited in the first place. Still, it is an irritation, and could be a nasty surprise if you are not prepared for it.
Finpari also charges a 1% processing fee for all withdrawals, or $20, whichever is larger. If you accept a bonus, the processing fee goes up to 3.5%, or $20. All international wire transfers will further be subjected to a $50 transfer fee. Should you decide to withdraw your money without meeting the turnover requirement, you can—however you will be paying an additional 20% processing fee.
Trading Binary Options on the Finpari Trading Platform
As just mentioned, you will be trading using the popular SpotOption platform. This is the platform used by the majority of binary options brokers. You can trade on your desktop, laptop, or mobile device (iOS or Android). The minimum trade amount for High/Low options is $10, and the maximum trade amount is $1,500. This is a pretty good range, ideal for traders with small to mid-sized accounts.
Types of Binary Trades Offered by Finpari:
High/Low
This is the most fundamental kind of binary options trade. You simply have to guess whether price will be trading above or below its current value when the trade expires. If you get it right, you win the payout. If you get it wrong, you lose your money.
Pairs
This type of binary options trade allows you to profit off of the relative performance of two different assets, generally stocks. Both of the stocks may even be going down, but you will still win so long as the stock you say will do better is outperforming the other when the trade expires.
Long Term
This is simply a High/Low trade with a longer expiration time. Long Term trades may stay open for weeks or even months.
Sixty Seconds
This is a High/Low trade with a one-minute expiry time. These blazing fast trades are incredibly exciting, and a favorite of binary options traders everywhere.
One Touch
With this type of trade, you are looking for price to hit a certain trigger point by the time the trade expires. If it does, you win the payout. If it does not, then you lose your investment.
Ladder
This is a special kind of incremental trade which allows you to accumulate a series of partial profits. The nice thing about this type of trade is that it is easy to get out early and keep part of your profit if you are afraid that things are about to go wrong. If you manage to stay in for the entire ladder, however, you can win a very sizable payout.
Is Finpari a Good Broker?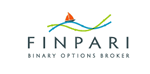 In a word, yes. Finpari has impressed me in a number of respects. This is one of the best-designed binary options trading websites that I have seen. It is easy to navigate, and you will have no problem finding the information that you are looking for. Finpari allows traders to practice without risk using a demo account even at the lowest account tier. They offer plenty of great resources for learning and tools for trading, and will even manage your account for you completely and place trades on your behalf if that is something you are interested in.
Moreover, I tested the customer service team at Finpari by talking to an agent on live chat. The agent responded to my questions quickly and thoroughly, providing me with transparent information even on the topic of regulation, which I did not honestly expect. This is a team I would fill comfortable working with.
So if you are looking for the next step up in binary options trading, especially if you are located in the USA, take a look at Finpari. I think you will be as impressed as I am!